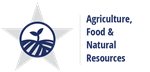 The Agriculture, Food, and Natural Resources (AFNR) Career Cluster® focuses on the essential elements of life—food, water, land, and air. This career cluster includes a diverse spectrum of occupations, ranging from farmer, rancher, and veterinarian to geologist, land conservationist, and florist. It also includes non-traditional agricultural occupations like wind energy, solar energy, and oil and gas production.

Courses in the AFNR Career Cluster are designed to prepare learners for careers in the planning, production, processing, marketing, distribution, financing, and development of agricultural commodities, services, and natural resources, including food, fiber, wood products, water, minerals, and petroleum.
Veterinary Assistant

This program of study is offered at The Center for Career and Technology Education

Pre-AP Anatomy & Physiology

Students study a variety of topics, including veterinary medical terminology, the structure and function of the human and animal body and the interaction of body systems for maintaining homeostasis.

Small Animal Management

Students will acquire knowledge and skills related to small animals and the small animal management industry. Small Animal Management may address topics related to small mammals such as dogs and cats, amphibians, reptiles, and birds.

Scientific Research & Design

Students conducts laboratory and field investigation, analyzes published research and current topics in the field of veterinary medicine.

Veterinary Medical Applications

Students will attain academic skills & knowledge, acquire technical knowledge & skills related to animal systems & the workplace. Topics covered in this course include, but are not limited to: veterinary practices as they relate to both large and small animal species. Students must also complete a Supervised Agricultural Experience Project (SAE).