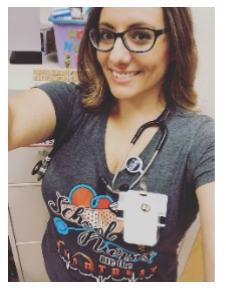 Name: Angelica Gutierrez, but I go by Angie (Nurse Angie)

Experience: I have my Bachelors of Nursing from the University of Texas at El Paso and was licensed as a Registered Nurse in Texas in 2008. I have been an elementary school nurse for a total of 8 years. I am currently working on my Master's Degree as a Primary Care Pediatric Nurse Practitioner.

Family: I have a husband of 14 years, who served in the U.S. Marine Corp, a 5 year old daughter, and an 11 year old son.

Likes: I love to read a good leisurely book, series, fantasy, and historical fiction are my favorites (huge Harry Potter fan), craft, bake, and spend time and support my kids in their sports and extracurricular.