Rosa Guerrero Elementary School is a co-ed elementary, Pre-K through fifth grade, campus located on the westside of El Paso. Our school colors are blue, gold and burgundy. Our mascot is the Aztec.

Established in 1992, our school is named after El Paso community leader Mrs. Rosa Guerrero. Mrs.Guerrero is a distinguished Folklorico dancer, community activist, child advocate and national speaker.

Our campus is proud to exemplify a tradition rooted in Ms. Guerrero's high expectations in the area of academics and the arts which oue students demonstrate through the campus' exemplary state assessment scores which aligns to our school motto, "We Go for Gold!"
---

AZTEC ADMINISTRATIVE TEAM

OFFICE STAFF:

Secretary to the Principal
Ms. Jessica Dorn, PEIMS Clerk
Ms. Estela Nava, LPAC Clerk
Ms. Margarita Lozano, Office Assistant

INSTRUCTIONAL LEADERSHIP TEAM:

Ms. Hortencia Tibuni, Guidance Counselor
Mr. Mario Lopez , Campus Teaching Coach (Math)
Ms. Teresa Partida, Campus Teaching Coach (Literacy)
Ms. Susan Barron, Campus Teaching Coach (Science/Technology)

LIBRARY SERVICES:

SPECIAL EDUCATION SERVICES:

Ms. Claudia Valenzuela, Diagnostician
Ms. Patricia Shingledecker, Speech Therapy



HEALTH SERVICES:

Ms. Beth Canak, R.N.



PARENT ENGAGEMENT LIAISON:

CAFETERIA/CUSTODIAL SERVICES:

Mr. Ricardo Morales, Head Custodian

Ms. Claudia Jurado, Cafeteria Manager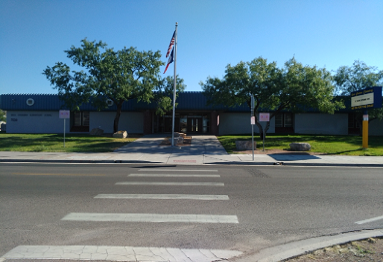 Rosa Guerrero Elementary School
"We Go For Gold"
Administration

Angelica Hernandez - Principal
Claudia Moreno, Asst. Principal - Discipline - Title IX Campus Coord.

Contact Us

7530 Lakehurst Road
El Paso, TX, 79912

Main: 915-236-3075

Discipline: 915-236-3075

Fax: 915-581-4418

Cafeteria: 915-236-3149

Email: guerrero@episd.org

Student Records: jdorn@episd.org

Student Records Fax: 915-581-4418