Phone:
Email:
Degrees and Certifications:
Leah Hanany, Secretary - District 1

Leah Hanany was born and raised in El Paso and grew up in the Lower Valley. She is a product of public schools and is a proud public school parent. Leah graduated from UTEP with a Bachelor of Art in Journalism and a minor in Education. She has been a teacher for seven years in the Ysleta Independent School District. She earned a Master of Education in Educational Leadership from the University of North Texas and holds a Principal Certificate in addition to four teacher certifications in subject areas from grades PK-12. She served on both the Campus Educational Improvement Council and the District Educational Improvement Council in Ysleta ISD. In addition to her time as an educator, Leah was the Assistant Director for Media Relations for UTEP Athletics and also has professional experience in healthcare administration. Leah believes in community-driven leadership and that policy should happen "with" communities and not "to" them. Her husband Mickaël, a native Frenchman, fell in love with the Borderland as a UTEP student and together they have five daughters they are raising in Kern near where they first met.

DISTRICT 1: About Face, Aoy Elementary, Douglass Elementary, Dr. Green Elementary, Hart Elementary, Lamar Elementary, Mesita Elementary, Armendariz Middle, Guillen Middle, Wiggs Middle, Bowie High, El Paso High, Center for Career & Technology Education, Telles Academy, Young Women's STEAM Academy

TERM: May 12, 2021 - May 2025

Email lhanany@episd.org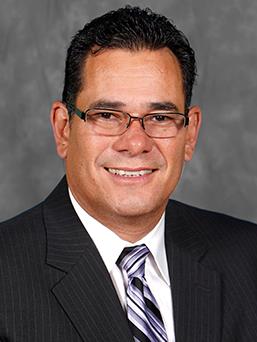 Phone:
Email:
Degrees and Certifications:
Al Velarde, President - District 2

Alfonso V. "Al" Velarde is the executive director of the Paso del Norte Children's Development Center. He was hired by the PdN CDC after doing the same work at the Child Crisis Center of El Paso for 11½ years. Before entering the field of social work, he retired from the El Paso Police Department after serving 21 years as an El Paso police officer and was the division director of Housing Programs and Community Services at the Housing Authority of the City of El Paso. He received his bachelor's in business management from the University of Texas-El Paso and is a graduate of the Bill Blackwood Law Enforcement Management Institute of Texas Leadership Academy. On his off time, Mr. Velarde is a football referee and has been officiating high school football games for the past 13 years. He is married with three children and four grandchildren.

DISTRICT 2: Cielo Vista Elementary, Clardy Elementary, Cooley Elementary, Hawkins Elementary, Hillside Elementary, Zavala Elementary, Henderson Middle, MacArthur PK-8, Burges High, Jefferson High, Silva Magnet, Delta Academy

TERM: May 14, 2019 - May 2023

Email avelarde@episd.org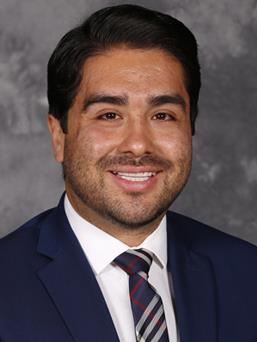 Phone:
Email:
Degrees and Certifications:
Josh Acevedo - District 3

Josh Acevedo was proudly born and raised in El Paso and attended Houston Elementary, Armendariz Middle and El Paso High (Class of 2007) in EPISD. A three-time graduate of the University of Texas at El Paso, he has a bachelor's of science in microbiology and master's degrees in political science and public administration and management. Mr. Acevedo has a strong commitment to education, mental health, public policy and community service, and has worked professionally and academically to advance those causes. He currently serves as a Program Manager for a grant on mental and emotional well-being at UTEP. He previously has taught in the UTEP Department of Social Work and the Department of Government at the El Paso Community College. Mr. Acevedo also worked as the senior administrative assistant for El Paso County Commissioner David Stout and was selected to participate in the Archer Center Graduate Program's internship program in public policy, where he served in the office of Congressman Beto O'Rourke in Washington, D.C. Mr. Acevedo is pursuing a doctorate in educational leadership and administration, which he hopes to use in an effort to help the El Paso community make informed decisions about the instructional future of the city.

DISTRICT 3: Bliss Elementary, Clendenin Elementary, Coldwell Elementary, Crockett Elementary, Hughey Elementary, Milam Elementary, Moreno Elementary, Rusk Elementary, Travis Elementary, Bassett Middle, Ross Middle, Austin High, College Career Technology Academy

TERM: May 12, 2021 - May 2025

Email jacevedo2@episd.org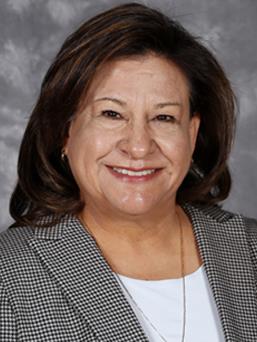 Phone:
Email:
Degrees and Certifications:
Isabel Hernandez - District 4

Isabel Hernandez is the second youngest of seven children and attended Stanton, Blessed Sacrament and Crosby schools. She is a graduate of Irvin High School and received a bachelor's of arts in economics from the University of Texas at Austin and a master's of art in human resources development from Webster University. For 20 years, she has lived in a home near the same Northeast neighborhood in which she grew up. Upon her return to El Paso she worked at a local non-profit for about 15 years. She has since worked as a Grant Administrator for the El Paso County Sheriff's Office and is now a Grants Analyst for the County of El Paso.

DISTRICT 4: Logan Elementary, Moye Elementary, Park Elementary, Powell Elementary, Stanton Elementary, Sunrise Mountain Elementary, Canyon Hills Middle, Magoffin Middle, Chapin High, Irvin High

TERM: May 12, 2021 - May 2025

Email ihernan@episd.org
Phone:
Email:
Degrees and Certifications:
Israel Irrobali, Trustee - District 5

Israel Irrobali was born and raised in Northeast El Paso, and attended Dr. Nixon Elementary, Nolan Richardson Middle, and Andress High School. He graduated from Syracuse University with bachelor's degrees in Public Relations, History and Political Science. Irrobali is a dedicated public servant who gained experience with the Governor's Office of Economic Development and Tourism, where he brought resources and tools to small businesses throughout the State of Texas. He is currently employed by the City of El Paso as the Legislative Liaison, where he works diligently to bring support and funding to the greater El Paso region. Irrobali is committed to transparency, community engagement and advocacy. Irrobali believes together, with the help of the community, EPISD will once again become the District of Choice for El Paso residents.

Irrobali is married to his Andress High School sweetheart, Andrea, and is father to two amazing children, Abram and Madeleine.

DISTRICT 5: Barron Elementary, Collins Elementary, Duran Elementary, Tom Lea Elementary, Newman Elementary, Dr. Nixon Elementary, Dr. Torres Elementary, Whitaker Elementary, Charles Middle, Richardson Middle, Terrace Hills Middle, Andress High, Transmountain Early College High

TERM: June 15, 2021 - May 2025

Email iirrobali@episd.org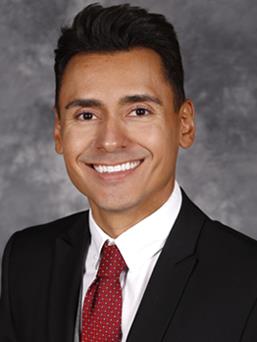 Phone:
Email:
Degrees and Certifications:
Freddy Khlayel-Avalos - District 6

Freddy Khlayel-Avalos is a native El Pasoan who attended Rosa Guerrero Elementary, Hornedo Middle, and Franklin High School before earning a bachelor's degree from Texas Tech University and a master's in public financial management from Rutgers University. He previously served as a founding appointed member to the City of El Paso Regional Renewable Energy Advisory Council, where the board made energy recommendations to the city council, and he currently serves on the El Paso Apartment Association government affairs committee. He is the founding President of the Star City Neighborhood Association, a graduate of the City of El Paso Neighborhood Leadership Academy, and a graduate of the El Paso Hispanic Chamber of Commerce "Lideres Empresarios" young entrepreneur educational program. As a principal in Rio USA, he is focused on real estate asset management and development that integrates renewable energy and environmentally conscious design. He is a founding member and President of Shine On El Paso, a nonprofit organization focused on supporting other non-profits and community members during critical charitable emergencies while creating content that reimagines and rebrands El Paso in a positive way. Klayel–Avalos is married with two children.

DISTRICT 6: Guerrero Elementary, Haskins PK-8, Herrera Elementary, Kohlberg Elementary, Lundy Elementary, Polk Elementary, Tippin Elementary, Hornedo Middle, Brown Middle, Franklin High

TERM: June 24, 2019 - May 2023

Email fkhlayel@episd.org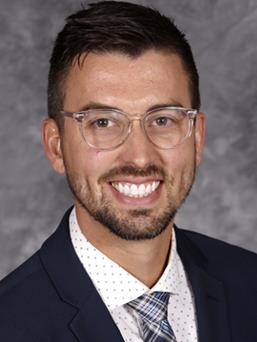 Phone:
Email:
Degrees and Certifications:
Daniel E. Call, Vice President - District 7

Daniel E. Call was born in Chihuahua and raised in rural Minnesota in a family of eight children. He received a bachelor's in political science from Brigham Young University–Idaho while taking a two-year break from college to serve as a missionary for his church. He moved to El Paso in 2010 and completed a master's degree in political science at the University of Texas at El Paso. After graduation, he taught several political science classes at UTEP as adjunct faculty. Mr. Call is a graduate of Leadership El Paso Class 40 and a board member of Every Little Blessing Pre-School. Mr. Call is a small-business owner and currently owns a State Farm Insurance Agency on the West Side. His passions are his wife, Toni Marie, and their four children, basketball, Mexican food, and training for marathons.

DISTRICT 7: Johnson Elementary, White Elementary, Putnam Elementary, Morehead Middle, Rivera Elementary, Western Hills Elementary, Coronado High School

TERM: May 14, 2019 - May 2023
* Content provided by trustees.