Return to Headlines
EPISD Student Spotlight: Lizette Flores, Burges High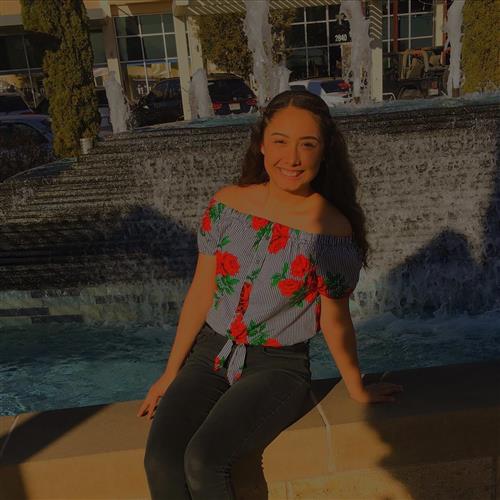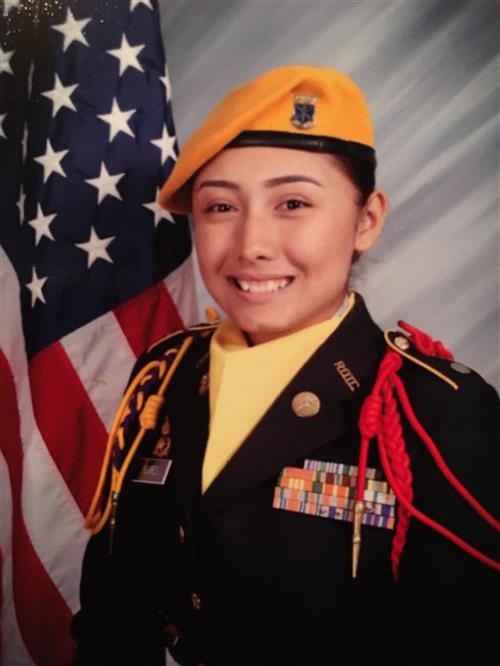 (BURGES HIGH SCHOOL -- Dec. 14, 2020) — Burges Cadet Battalion Commander Lizette Flores recently received JROTC's highest officer rank: Cadet Colonel. This achievement came as a surprise to no one since the senior has been a campus leader for years, rising through the JROTC ranks and serving in other leadership roles on campus. Community Engagement sat down for a virtual interview with Lizette to talk about her senior year and her role in JROTC for this edition of the EPISD Student Spotlight.
EPISD: What does it mean to you to be promoted to Cadet Colonel in JROTC? How did you get to this high rank?
LIZETTE FLORES: In my sophomore year, I felt lost and alone. Luckily, one close friend of mine advised me to join JROTC because it felt like a second family to her. I proceeded to join not only the program but also their extracurricular teams such as Push-Up Squad, JLAB Leadership Team, Drill Team, Orienteering Team, Flag Detail, and a couple of others. Also, I volunteered for every community service event. With my participation in the extracurricular teams and volunteering, I got ranked to Cadet Colonel. Being promoted to Cadet Colonel shows me that hard work and dedication will pay off eventually.
EPISD: What does being in JROTC mean to you in high school and possibly after?
LF: As a cadet in the JROTC program, the instructors and cadets mean a second family to me. They have helped me through my worst and best moments not only academically but emotionally as well. After all, our Burges JROTC motto is One Team, One Fight. However, even after graduation, I will always try my best to keep in touch as have other graduates done so.
EPISD: How have you continued JROTC during the pandemic?
LF: Handling JROTC activities during the pandemic has been very challenging. During the first semester, we usually have our Drill Meets, canned food drive, and participate in the Veterans Day Parade but due to COVID-19 we were unable to have those events. However, on Veterans Day, a couple of other cadets and myself conducted a meeting for the cadets to meet and greet and to give a proper introduction to our new instructor 1SG Henry Briddell through a zoom conference.
EPISD: What are you doing to make the most of your senior year?
LF: I have been attending my classes, meetings for the Brigade Board, meetings for the Principal Advisory Committee, and staying aware of my application to UTEP.
EPISD: How have you kept up school spirit during the pandemic?
LF: I make sure to interact with the Burges Instagram account by either liking or participating in the activities/challenges that are given to the student body.
EPISD: What are your other honors and achievements in high school?
LF: In JROTC, I have been a member of Junior Cadet Leadership Challenge, Drill Team, Orienteering Team, Flag Detail, Push-Up Squad, JROTC Leadership and Academic Bowl Team, former S-5 which is the Public Affairs and Recruiting Officer, Military Ball Junior Princess. Lastly, I have contributed a total of 238 community service hours. Other than JROTC, I am part of the Child Development Lab program at Burges, take AP courses, and currently a member of the Principals Advisory Committee.
EPISD: What advice would you give incoming freshman?
LF: As a freshman, I was shy to ask questions. It is the worst mistake you can ever make as a freshman. If you are lost, don't understand, or just simply need help, ASK QUESTIONS! I could've graduated early in my senior year, but I never asked my counselors what credit was and how it helps towards graduation.
EPISD: What is the first thing you plan to do when the pandemic is over?
LF: Since I am a family-oriented person, after the pandemic, the first thing I will plan to do is to reunite with my family and friends. I feel like this year has shown all of us not to take anyone or anything for granted.
EPISD: Anything you'd like to add?
LF: Yes. I would like to thank my instructors, friends, teachers, and above all my family for pushing me to reach my goals and to become a better person.
Interview by Reneé de Santos