Return to Headlines
EPISD Student Spotlight: Jasmine Lupo, TMECHS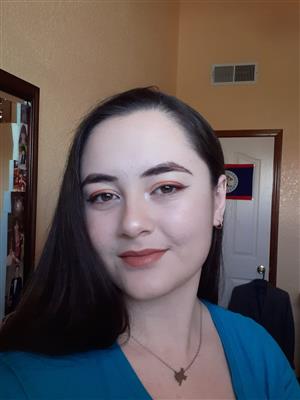 (TRANSMOUNTAIN EALRY COLLEGE HIGH SCHOOL -- Dec. 15, 2020) — TMECHS senior Jasmine Lupo hopes to combine her of love of art and math into a successful architectural career. The Ivy League or Massachusetts Institute of Technology hopeful is currently pushing through a health setback to remain focused on her academic goals. Jasmine is the next senior to be featured in EPISD's Student Spotlight.
EPISD: How are you staying motivated and involved in school during the pandemic?
JASMINE LUPO: My main motivation in school before the pandemic was the wish to do my absolute best. I worked hard for the self-satisfaction that would come with knowing that I did all I could. Nowadays, I stay motivated and involved for my friends, encouraging them to continue just as much as they encourage me.
EPISD: What challenges have you faced as a result of the pandemic and how have you overcome them?
JP: The main challenge from this pandemic has definitely been the social distancing. I'm a social butterfly and the separation from my close friends has lowered my morale. I've also been double-whammied from a recent back surgery over the summer break to relieve pressure on my spinal cord. I suffered severe nerve damage that affected my right leg, meaning I walk with a cane now. The only way I've been able to overcome this depression is through the loving encouragement of my family and friends.
EPISD: What advice can you give to succeeding with remote learning?
JP: In the end, it all comes down to discipline. Online school has opened the door to extreme procrastination, and the best way to avoid that is through discipline. Keep yourself in check and work hard, set timers to remind you when your classes start, and diligently write down what you need to get done and when it's due in a planner. It all pays off in the end.
EPISD: What are you doing to make the most of your senior year despite the pandemic?
JP: Going outside is out of the question during the pandemic, and my ability to drive has also been completely compromised by my recent back surgery and disabled right leg, so I haven't been able to make most of my senior year outside my house. In my house, I've picked up a new hobby, beading and jewelry making, to give myself something different to do. It isn't something big, but it's how I'm making use of my time as a senior.
EPISD: What are your honors and achievements in high school?
JP: Not only have I managed to remain as a straight-A student my entire high school career, I've also worked my way to remain in the top 5 the entire time. I've been given many awards from my teachers at end of year award ceremonies, and by the end of this year, I will have competed in Academic Decathlon twice as the team captain. Above all, though, I'd say my proudest honor is not the grades or the ranks, but rather the honor of getting to know the wonderful students, teachers, and staff that have walked alongside me at TMECHS.
EPISD: How has Academic Decathlon changed during the pandemic?
JP: It's been harder to prepare for the competition, especially since we aren't exactly sure how it will work out yet. The best part of AcaDec was always getting to go and meet other students and form close bonds with your team, but that's all been lost to the pandemic. Despite this, I look forward to competing in AcaDec again this year even if it's not in person.
EPISD: What advice would you give incoming freshman?
JP: Before the pandemic, I would always tell freshmen to believe the teachers and staff when they say you'll end up thinking about everyone as a family. My school is small and you get to know everyone in your grade by name. You get close over time, and I think it's one of the most beautiful things about TMECHS. Nowadays, however, the only thing I can tell freshmen is to hold on and not give up. TMECHS is tough, but you are tougher.
EPISD: What is the first thing you plan to do when the pandemic is over?
JP: Above all, once this mess is over, I want to hug my friends and family without the fear of getting infected by a deadly virus. I love them more than anything and I miss them all dearly, especially my family in Belize that I haven't been able to see for the past few years.
Interview by Reneé de Santos