Return to Headlines
EPISD Student Spotlight: Bianca Batista, Chapin High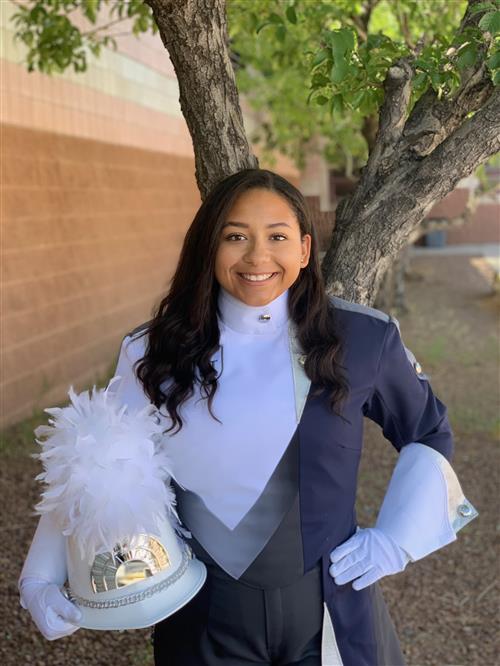 (CHAPIN HIGH SCHOOL -- Dec. 30, 2020) — Chapin senior Bianca Batista isn't letting the pandemic ruin her senior year. She earned early admission and a full-ride scholarship to the University of Notre Dame as a QuestBridge Scholar while never missing a beat as the back-to-back drum major for Mighty Chapin Husky Band. Bianca shares her story and offers advice to potential QuestBridge applicants in this edition of the EPISD Student Spotlight.
COMMUNITY ENGAGEMENT: How does it feel to be a QuestBridge Scholar?
BIANCA BATISTA: It feels absolutely surreal. I really can't even begin to describe how relieving it feels to know my future is paid for and that all my hard work these past four years is really starting to show. Overall, it's a dream come true for me and I'm forever grateful that I've been blessed with this accomplishment.
CE: Tell us about going to Notre Dame and what it means to you?
BB: From the start of the college admission process, Notre Dame was always my No. 1 school. The fact that I matched with my top choice university is just so amazing beyond words. It means the world to me that I get to go to one of the most prestigious schools in the nation and I can't wait to be home under the dome.
CE: What do you plan to major in and what are your career aspirations?
BB: Next fall, I plan to major in Biomolecular Engineering as part of the chemical engineering department. I hope to also study abroad at the Imperial School in London during my time at Notre Dame. Once I graduate, I hope to work as an engineer to help enhance technology in the medical field.
CE: Tell us about leading the Mighty Chapin Husky Marching Band amid the pandemic?
BB: It has definitely been a challenge, but it has reminded me more than anything of why I love band and why I love waking up every morning to lead my band. Things are different than usual, but it hasn't stopped me from trying to help motivate others.
CE: You've been vital in organizing virtual events for band. Tell us about the events and how important it is for you to keep them going during the pandemic?
BB: Keeping the family dynamic of our band is the most important thing to the leadership team right now, so we've been doing our best to make sure that we take time to just enjoy each other by doing things we enjoy like game nights, movie nights, karaoke, and more. It is so crucial to me that we keep them going, because above even music, staying connected is what is going to get us through these times.
CE: What are you doing to make the most of your senior year despite the pandemic?
BB: The biggest thing I am trying to do is just keep a positive mindset and an open-mind as time goes on. I am doing my best to try and still enjoy traditional senior traditions even if I have to put a virtual twist on them. Staying connected with everyone, especially friends, is definitely my priority.
CE: What are your honors and achievements in high school in addition to QuestBridge?
BB: In addition to the QuestBridge National College Match, I was also part of the QuestBridge College Prep Scholar program, an AP Scholar with Honor, drum major for two years, first chair in Chapin Wind Ensemble, vice president of National Honor Society, two-time State Qualifier for Solo and Ensemble, Class President for three years, a member of the National Society for High School Scholars, selected for Congress of Future Medical Leaders Award of Excellence, invited to various leadership seminars, and recognized for academic excellence by Chapin High School.
CE: What advice would you give students interested in applying to be QuestBridge Scholar?
BB: My biggest piece of advice would be to be genuine. I think nothing makes you stand out more than being completely you in your application process. There will be numerous times where the essays seem impossible to finish, the application feels years long, and the nights get long, but the work is ALWAYS worth it, so don't give up! You will never know if you don't give yourself the opportunity.
CE: What is the first thing you plan to do when the pandemic is over?
BB: I plan to spend as much time as possible with everyone I love and just soaking in every moment of it, making sure to cherish everything and not take it for granted.
CE: Anything you'd like to add?
BB: I just want to give a big thank you to all my administrators, teachers, friends, and family who have guided me towards academic excellence since day one. And to underclassmen, the future is bright! Anything is possible if you dream big.
Interview by Reneé de Santos