Return to Headlines
Update: Hornedo NJHS bell ringers ranked 1st in Salvation Army fund raiser in El Paso, 11th in U.S.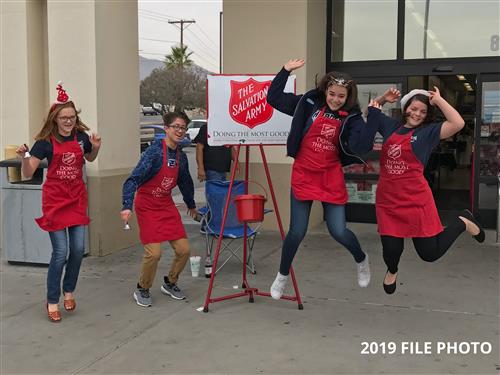 (HORNEDO MIDDLE SCHOOL Dec. 1, 2020) — Hornedo's National Junior Honor Society members may not be huddled around a red kettle ringing bells for the Salvation Army at a shopping mall this year, but their virtual fundraising campaign is shattering previous records and ranking them as the top team in all of El Paso.
The Hornedo students have raised more than $6,000 through the online campaign and are ranked as the 11th bell-ringing team in the nation. The original goal for the honor students was $800 – the amount they raised last year outside of the Walgreens at Redd and Resler.
"For the past 6 years, members of our chapter of NJHS have rung the bell, in groups of 4, for an hour at a time for the entire day, the first Saturday in December," said math teacher and NJHS sponsor Susan Navarrette. "We have come to understand that the Red Kettle drive is a major part of the income for the Salvation Army. We knew they would be counting on us."
Eighth grader Ali Lopez's sent out texts and reached out to family and friends through social media to launch the campaign.
"Ringing the Bell for the Salvation Army has become a favorite tradition of the Hornedo NJHS," said Lopez, who tops the leaderboard in the number of donors with 11. "In previous years the students braved the weather and maybe a few strangers to collect money in person. This year it's a little harder but even more important that we ring that bell. More people are struggling and turning to organizations like the Salvation Army for help. It's important that we do our part to help."
She continues to reach out to family and friends about campaign.
"I remind people that it is the season for giving and every little bit helps," Ali said. "Today more than ever, every dollar counts and no amount is too small."
Funds from the campaign stay in El Paso to assist people needing assistance with rent, feeding the homeless, veterans, hygiene kits, Christmas gifts, food boxes and more.
"This is the first year we implemented the Virtual Bell ringer due to COVID-19," said Brenda Sanchez, volunteer and special events coordinator for the Salvation Army. "It is important for groups and organizations to make a team because the Salvation Army of El Paso is struggling this year with our biggest fundraiser of the year. Thank you Hornedo Middle school NJHS for helping us #rescuechristmas."
Navarrette credits the power of technology for the increased donations.
"Just share a link, bam, done," she said. "This goes to show that there is always another way, and maybe even a better way for something to be done. Sometimes it takes events that are beyond our control to force us to think outside the box. It might take more effort, but seeing the results makes it even more worthwhile."
Hornedo's next project will be to grant the Christmas wishes of 75 children who are currently receiving services through the Center Against Family Violence.
To make a donation to the Hornedo NJHS virtual kettle bell campaign, click here.