Return to Headlines
EPISD Student Spotlight: Ana Paulina Serrano, Coronado High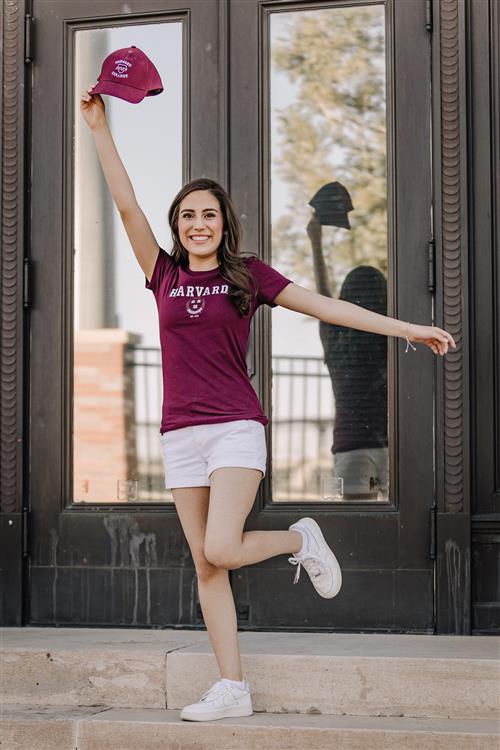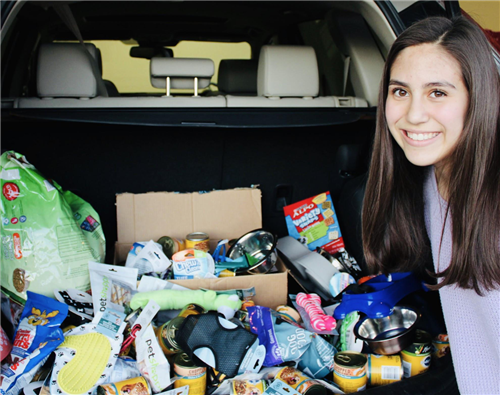 (CORONADO HIGH SCHOOL -- June 8, 2021) — Coronado senior and Class of 2021 valedictorian Ana Paulina Serrano has dreamt of an Ivy League education since first grade. After years of juggling the challenging International Baccalaureate (IB) program with time-consuming extracurricular activities, her dream is coming true. She gained early admission to Harvard University last December and plans to study medicine to become a neurosurgeon. She is the next subjet of the EPISD Student Spotlight.
EPISD: Tell us about going to Harvard? What do you plan to major in and what are your career aspirations?
ANA PAULINA SERRANO: I had dreamt of attending Harvard for as long as I can remember. Probably dating back to first grade! I had never even considered attending other schools until I had to make a list of the colleges I would be applying to my senior year. Harvard always seemed like the perfect fit for me. It is located in Cambridge, Mass., along the Charles River. I have always wanted to experience living in an urban city, and I will be able to practically experience living in Boston. I visited campus the summer before my junior year and I absolutely loved the vibe of the community. The campus itself is beautiful and it is home to the oldest library in the United States and the largest academic library in the world. Harvard also happens to be ranked No. 1 in neuroscience, which is my prospective field of study on the Pre-Med track. Right now, I am planning on becoming a neurosurgeon, but this is highly subject to change as I explore new interests.
EPISD: How does it feel to be accepted to such a prestigious college?
APS: I found out I was accepted into Harvard on Dec. 17, 2020. I applied in the Restrictive Early Action application round, which is why I received my decision early. I actually set up my video camera and wore a Harvard t-shirt before opening my decision. My heart was almost beating out of my chest and then I immediately started crying and hugged my mom after seeing that I was accepted. We even started jumping up and down. Words cannot express how blessed I feel to have been accepted to the school of my dreams. I plan to take advantage of all the resources Harvard has to offer on my way to building my career.
EPISD: What advice would you give others interested in attending an Ivy?
APS: My advice to students who aspire to attend an Ivy League institution, or any college of their choice, would be to never lose sight of what they are passionate about. It can sometimes be tempting to participate in activities that you would think an admissions counselor wants to see on your application. However, I think that your authenticity really shines through when they see your passions reflecting through the clubs and hobbies you participate in. Most of all, I would strongly advise students to never lose sight of what is important in life. It is important to have fun and cherish time with your family and your friends. Finding a balance between your personal and academic life is essential to your happiness and success.
EPISD: How has being in IB helped you prepare for college and beyond?
APS: I believe that being in IB allowed me to acquire both knowledge and skills that have really prepared me for college and beyond. The advanced curriculum allowed us to view topics from a global perspective and interdisciplinary view. For example, we had to take into account the ethical implications of stem cell research in biology class. We also studied Theory of Knowledge, to evaluate how we learn. I strengthened my critical thinking skills, as well as my time management skills due to the heavy workload. Developing an Extended Essay is also part of the IB curriculum which is like a mini-thesis. For this 4,000-word essay, we conducted extensive research, read books, and met with a mentor to guide us throughout the process. I would recommend the IB Program to any incoming high school student because I believe that it leaves us very well prepared for the future.
EPISD: What did you do during high school that helped you attain acceptance at Harvard?
APS: I was in the IB Program for four years at Coronado and I also took many AP classes. I submitted my rank as valedictorian of my class when I submitted my Harvard application. I served as President of Coronado Key Club for two consecutive years and initiated a project to aid homeless dogs in our neighboring city of Ciudad Juárez. I also participated in the National Hispanic Institute, Future Doctors of America, STEP Tutoring, Class Executive, Spanish Club, and the College Mindset Academy. Aside from these academic and extracurricular activities, I believe that it was important to highlight my personality and identity through the personal essays on my application.
EPISD: What are your honors and achievements in high school?
APS: I ranked Top 5 every year at Coronado, earning a Letterman jacket and Gold Bar Academic Achievement Awards. I received AP Scholar with Distinction and AP Scholar with Honor Awards. I was accepted to attend the NSLC at Harvard Medical School in Neuroscience and Psychology, where I attended lectures by Harvard professors and neuroscientists at Massachusetts General Hospital and participated in medical simulations where I was challenged to diagnose a neurological and psychological disorder. I placed in the Final Four in the National Hispanic Institute's Great Debate, as well as served as a Senator and Public Health Committee Chair at the Lorenzo De Zavala Youth Legislative Session. A few weeks ago, I received one of the ten T-Bird Awards awarded by Coronado High School principal Mark Escareno.
EPISD: Tell us about starting the Making Life Less Ruff Project? What made you start it and how has it grown?
APS: CAS (Creativity, Action, Service) is a component of the IB Program. Over the course of 18 months, I developed and executed the Making Life Less Ruff Project. I have lived in El Paso all my life and have often traveled to Ciudad Juárez to visit my family there. On one visit across the border, I accompanied my aunt who founded an animal protection agency in Juárez called IPAECH (Institución de Protección Animal del Estado de Chihuahua). My aunt regularly ventures out deep into the colonias to educate pet owners on how to provide food, water, shelter, and anti-parasite medication for their dogs. Her passion to better the lives of animals across the city and her determination to educate people on animal respect has inspired me to do the same. I realized that thousands of mistreated dogs are in need in my community, and they are often overlooked due to either ignorance or privilege. I worked with my aunt to gather donations in El Paso and send them across the border so her organization can distribute them to pet owners in need or to homeless and malnourished dogs. Over the course of the 18 months, approximately 600 dogs were able to benefit from donations.
EPISD: How have you overcome the challenges associated with the pandemic?
APS: It was challenging to be stuck at home at the beginning of the pandemic and be away from my friends and family. However, I decided to view the time at home as a blessing since I needed to take a break from my busy schedule. I read for leisure, watched lots of movies, spent time outside, and cherished time with my mom since I will be leaving to college soon.
EPISD: What are your plans for the summer?
APS: For now, my plans for the summer are to spend as much time as possible with friends and family before leaving for college. I am also planning to travel a bit, read, and prepare for college whether it be by filling out paperwork or purchasing items for my dorm.
Interview by Reneé de Santos