Return to Headlines
Bella's Gift of Love
By Keira M. 5th Grade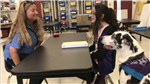 This year Newman Elementary has had the privilege of having a therapy dog come visit our students, but not just any therapy dog, we had Bella Strom the beautiful black and white, blue-eyed, Great Dane mix owned by Rhonda Strom. She's visited our special needs students 3 times this year and plans to continue visiting more frequently next year.

Bella was born on September 9, 2009 and was lucky enough to be adopted by Ms. Strom on December 11, 2009. Rhonda trained Bella for 4 years before she was able to take and pass the Therapy Dog Certification Test. She and Bella have been to many locations including schools, hospitals, living assistance, and more.

Rhonda has had other dogs in the past including her last dog who was a lifeguard in the Louisiana area. She was a very fast, aggressive swimmer who saved the lives of 5 children during her lifetime and was considered a hero by the community. Bella is different though. Her personality, which is very calm and quiet, is more suited for the work she does with schools, hospitals and hospice to name a few. Bella loves to make people smile!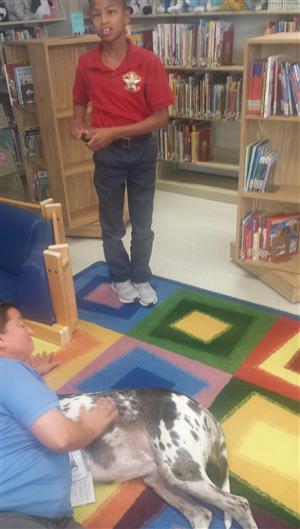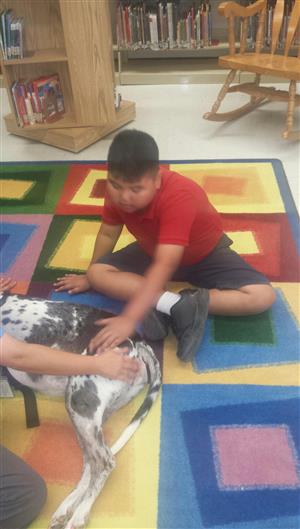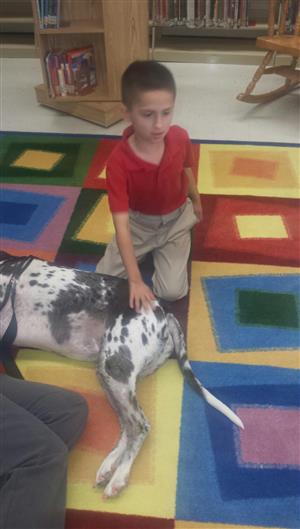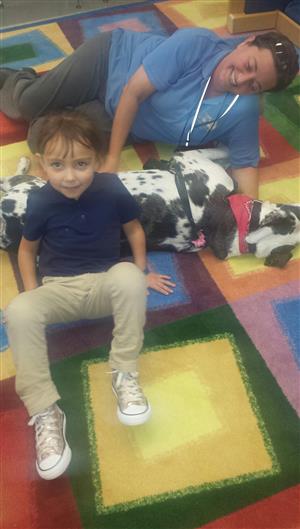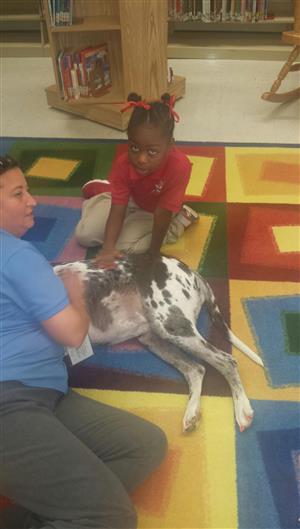 Have you ever wondered what the difference is between a therapy dog and a service dog? Rhonda explained that we should expect to see therapy dogs in schools, participating in read programs, helping people with special needs, and in hospitals helping the sick. Service dogs are with one person and they may work to help a blind or deaf person, people who have PTSD, or people who suffer from seizures. We should not touch service dogs because it takes away from their job, however, she encourages us to say hi to therapy dogs (but always ask their handler first).

Bella and Rhonda visit locations based on requests. Valerie Acuna, Family Intervention Specialist from Focus on Children and Families, spearheaded the effort to bring this wonderful pair to Newman. Bella and Rhonda have become part of our Newman family and have formed a special bond with many of our students. The work they have done at our campus has encouraged growth and positive change in our students. Rhonda is hoping to be able to visit more often next year and also said there is a possibility that we may be part of a Read Program with a different team of dogs who would come to our school once a week to work with students. A read program is something for students who have trouble with reading, are anxious, or have low self-esteem. They read to the dog, which helps them become stronger readers and raise self-esteem.

The students, faculty and staff at Newman would like to send a heartfelt thank you to Rhonda and Bella for choosing to share their gift of love with us this year. We are looking forward to seeing them again next year and hopefully meeting some of Bella's dog friends as well!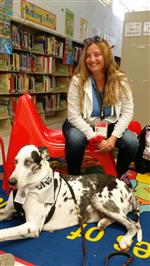 Friend Bella on Facebook at https://www.facebook.com/bella.strom.73