Return to Headlines
EPISD Senior Spotlight: Adrian Martinez, Burges High School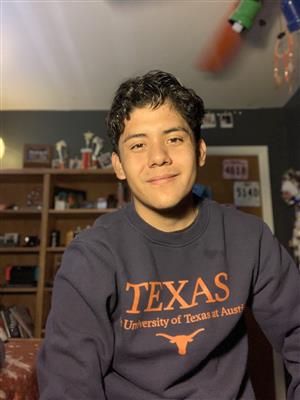 (BURGES HIGH SCHOOL -- Aug. 19, 2020) — The EPISD Senior Spotlight features members of the Class of 2021 who are beginning their school year virtually but full of hope and excitement. While the start of their senior year is now that they had envisioned, they still have tons to look forward.
Today we feature Burges Student Body President Adrian Martinez. He has spent the pandemic coping by painting, reading and do-it-yourself projects around his home. During the school year, he balances school work with tasks with the National. Honor Society, cross country, track & field and the High-Q team. He hopes to attend the University of Texas at Austin after graduation.

EPISD: What are you doing to make the best of your senior year?
Adrian Martinez: I am staying active on social media and working hard in all my classes to get the positive experience I've had since I was freshman.
EPISD: What are your hopes for the upcoming school year?
AM: My hope is to not get too pessimistic and become overwhelmed with sorrow, but rather stay positive and know that it'll all be back to normal soon. Also, I want to create a fun (virtual) school year experience.
EPISD: How are you staying connected with your classmates?
AM: I've been connecting with my classmates mostly through social media and texting, seeing what they're doing during their quarantine.
EPISD: How has virtual learning changed the way you study?
AM: Virtual learning is honestly a blessing in disguise. When I study, I'm able to go at my pace and really go over what I personally need help in such as pre-cal and physics. This past year, I was able to understand a lot more when I didn't feel the fast pace in a regular classroom.
EPISD: What are you doing to prepare for the upcoming school year?
AM: I'm preparing to make this year fun and memorable but with social distance. I'll be doing stay-at-home projects, dance competitions and drive-in movies, as well as thinking of ways to make meaningful connections and interaction over the 'Zoomiverse.'
EPISD: What advice would you give freshman?
AM: For freshmen, I'd say don't be afraid to try new things. Put yourself out there and it's okay if you don't know what route you want to take just yet, you'll find your call and your way.
EPISD: Describe your workspace? How are you making it fun or personalize it?
AM: My workspace is small and put together. I like to have my laptop next to my charger and notebook with a little jar of pens and pencils to the side of me I have flash cards in case I need to review something again and a lamp to the side of my desk just in case i need some extra light. I have a new DIY above my desk as well a cork board with pictures drawings and more of friends and family.
EPISD: What is your go to pandemic song?
AM: My go-to pandemic song right now is probably 'Funny Thing' by Thundercat. It gets me in a good mood and my mind off all the crazy in the world.
EPISD: Any additional thoughts?
AM: I wish all the EPISD seniors a good year and we're the class of 2021. There's nothing we can't handle – even a global pandemic. We got this!
Interview by Reneé de Santos