Return to Headlines
EPISD Senior Spotlight: Melody Stout, El Paso High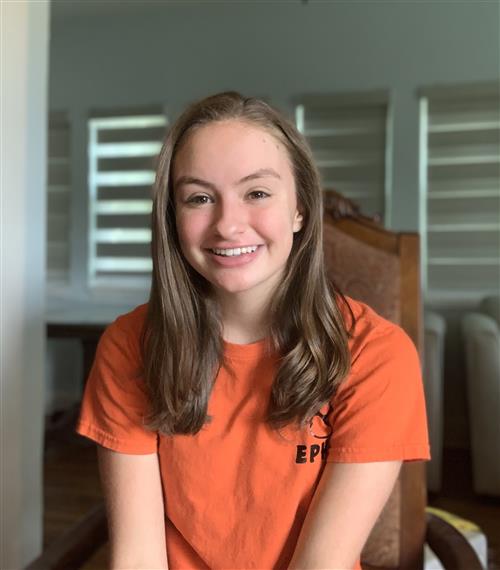 (EL PASO HIGH SCHOOL -- Aug. 21, 2020) — The EPISD Senior Spotlight features members of the Class of 2021 who are beginning their school year virtually but full of hope and excitement. While the start of their senior year is now that they had envisioned, they still have tons to look forward.
Today we feature El Paso High School Student Council President Melody Stout. The senior stayed busy this summer doing two-a-day workouts, designing buttons for friends and sewing. After graduation, she hopes to pursue a degree in business with a minor in journalism at one of her dream colleges: University of Pennsylvania, Vanderbilt University and Penn State. Community Engagement virtually chatted with the volleyball captain and newspaper editor in chief to get her take on remote learning and how the pandemic will affect her senior year.
EPISD: What are you doing to make the best of your senior year?
Melody Stout: When I tell people that I'm a senior, they get really sad and they start to feel bad for me but I don't necessarily feel badly. We're not having a conventional senior year but that doesn't take away all the memories we have made in high school. I am filled with so many memories from throughout my high school years. In the future when I look back at it, I'm not going to think 'oh I was in the coronavirus class. I didn't get a regular school year. I didn't get Eve of the E.'
EPISD: What are your hopes for the upcoming school year?
MS: My hope as student council president is to help acclimate the freshman in a time of a harsh learning environments. High school in itself is a huge transition and when you put in no face-to-face learning, it's even harder. So, I just hope that we can help them integrate into high school life and that they get to experience some good memories this year.
EPISD: How are you staying connected with your classmates?
MS: I've been staying connected with my volleyball teammates through Zoom. We also workout outside of school ball at the gym together so that keeps us really close. The friends that I don't see because of sports, we have group chats on iMessage and we'll play Crazy Eights together while FaceTiming. It's really nice just to see their faces and hear their life and just be a part of their life.
EPISD: How has virtual learning changed the way you study?
MS: Virtual learning has change the way that I study because it's so hard to retain information from a laptop versus an actual person. I write down anything the teacher says is important and I will use outside sources just to gain more knowledge on the topic. The Internet is so versatile, and it has so many interesting ways of learning things. I'll find practice problems, little games, or handouts online that I can do that will help me with that specific subject.
EPISD: What are you doing to prepare for the upcoming school year?
MS: I have three different agendas: a large calendar that stays on my table, a planner that I take with me everywhere and then my online Google calendar. I started doing this because being at home you don't have teachers constantly reminding you when things are due or when you have a meeting. I use this as just a way to organize my mind.
EPISD: What's your advice to incoming freshman?
MS: My advice to incoming freshmen is to just focus on online school as hard as they can and push through it, so that way we can get back to school and back to regular learning. It's also really important for everyone to try something new whether it be a club sport activity anything just so that they have a group of people that they can connect with in this time of distance-learning. And of course, remain optimistic because their high school journey is just starting and they have four years of great memories ahead of them.
EPISD: Describe your workspace.
MS: I chose to work in the dining room because it has a really large window and I feel like light is important. If it's too dark, then I'm going to get really tired. The bigger room is helpful so that way I don't feel trapped and I just feel like I'm in a classroom rather than my bedroom. I put a little book shelf to organize my notebooks, my papers, tape, stapler, everything and then I also have my button maker along with some bubbles to play with in between classes. After a long class online, it keeps my mind light instead of getting tired of looking at the screen all the time.
EPISD: What is your go to pandemic song?
MS: My go to pandemic song is "Life Changes" by Thomas Rhett. In the song, he explains that his life hasn't really gone the way that he thought but it turned out even better. I think that reflects well right now because 2020 hasn't gone the way that we expected it to but something good is going to come out of it if we just roll with the punches.
Interview by Reneé de Santos