Return to Headlines
The EPISD Q&A: Adrian Flores, Aoy Elementary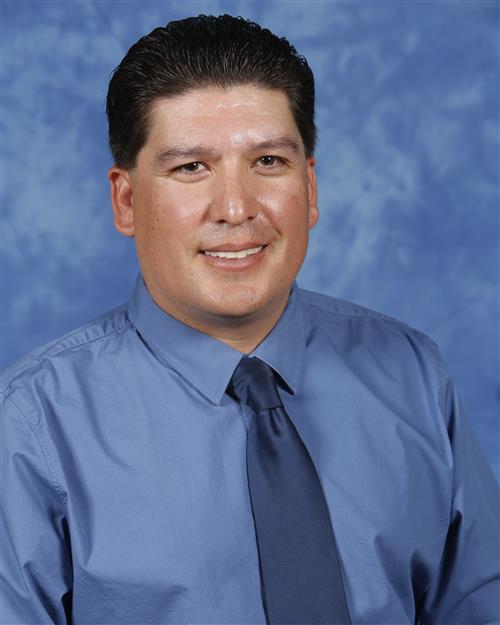 (AOY ELEMENTARY SCHOOL -- Aug. 27, 2020) — Aoy physical-education teacher Adrian Flores always thinks out-of-the box to engage his students in physical education. Flores, who has taught at Aoy for 21 years, got the coaching bug working under the tutelage of his father, a little league coach. The challenge of remote learning has the PE coach busy doing professional development and researching how best to continue keeping kids physically fit in the age of COVID-19.
We visited with him for a glimpse into his virtual PE class.
EPISD: What made you want to become a PE coach?
Adrian Flores: When I was in college and helping my dad coach little league teams, I'd show the players drills and they started calling me coach.
EPISD: What are your expectations for this unprecedented school year – especially when it comes to physical education?
AF: My expectations for this year is to conduct class as if I was back on campus with my students. I expect my students to come to class and be ready to move and have fun. The only difference would be equipment. We are going back to an old school method of using household items kids have at home, to do various activities and being creative by going back to when I was a kid and use the imagination and create activities.
EPISD: What have you done to prepare for teaching PE digitally?
AF: I have communicated with other coaches from other states to see what they are doing. I use Quicktime, Moviemaker, Handbrake and other videos tools to film myself and create various videos for the students to follow. I also have created various assessments using videos and Schoology.
EPISD: What types of activities are you planning for your students?
AF: I am planning to use the EPISD PE curriculum but with modifications because of equipment and creating activities that students can do using household items. I plan on doing dance, fitness challenge activities, scavenger hunts, Dance Dance Revolution and other activities using technology.
EPISD: How will your classes change this fall?
AF: I still plan to interact every day and give instruction to my students who love seeing me and the other coach I work with. I will conduct class as if we were back at school.
EPISD: What do you want your parents and students to know as they begin school year?
AF: I am there for them and their son or daughter and that even though we are virtual, I have the same expectations as if we were at school. Also, if parents or any family members are at home, we would like for them to participate with us in PE, if they can.
EPISD: Why is it so important for students to keep active during the pandemic?
AF: It is important to keep active during the pandemic because it helps the students take their mind off of the constant reminder of COVID-19. Activity can relieve stress students may have while being at home. Activity can also be a great bonding time between parents and students by bring them together. It can help students with SEL as well.
EPISD: How did the first few days go?
AF: The first few days was kind of chaotic because of students had trouble getting into class and the course. Once they learned, it was easy for them. It was also great because I finally got to see my students and see how they have grown and to be able to interact with them and see how they have been holding up in these times.
EPISD: Anything you would like to add?
AF: I love that I can teach and make an impact on my students during this pandemic and that we are all in this together. I will always be there for them.
Interview by Reneé de Santos