Return to Headlines
EPISD Q&A: Clarissa Rybicki Davila, Moye Elementary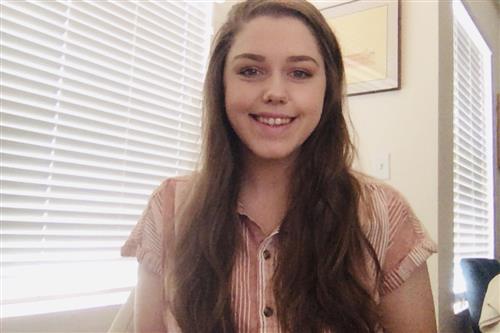 (H.R. MOYE ELEMENTARY SCHOOL Aug. 20, 2020) — The EPISD Q&A gives us an insight into the students, teachers and stakeholders of the District – the people who make it run and thrive. In this edition of the EPISD Q&A we speak with Clarissa Rybicki Davila, a kindergarten teacher at Moye.
Rybicki Davila traded a career in the non-profit sector to become a kindergarten collaborative teacher this year. She is among the 120 new EPISD teachers this fall.
She comes to EPISD with solid credentials: a bachelor's degree in human development and family studies with a concentration in early childhood development from Texas Tech University and is currently seeking a master's in school counseling from UTEP. Prior to joining EPISD, Rybicki Davila worked as a mental health/outreach coordinator for the homeless population and as an intellectual and development disability service coordinator.
Community Engagement sat down with Rybicki Davila for a Q&A to chat virtually about becoming a teacher and how she plans to tackle the challenges and opportunities of the upcoming school year.
COMMUNITY ENGAGEMENT: What made you want to become a teacher?
CLARISSA RYBICKI DAVILA: I wanted to become a teacher because I missed being around children. While I enjoyed my time working in nonprofits, there is nothing like interacting with children every day. I love their joy, outlook on life and I love to watch them learn and grow.
CE: How will your former career in non-profits and working with the mental health of the homeless help you transition into your new career?
CRD: By understanding the importance of mental health, I understand we have to create relationships with our students first and meet all their basic needs before academic learning can begin. Because I am in Kindergarten Collaborative, half of my students with have special needs. My experience as an intellectual and development disability service coordinator has helped me understand many of the resources available to the special needs population. I also understand the wide variety of special needs and believe my experience will help me adapt to any learning needs my students might have.
CE: What are your expectations for this unprecedented school year?
CRD: Knowing the El Paso community, I know that we will get through this pandemic and we will get through it stronger. All the teachers and staff are excited and working hard to make sure this school is like any other school year despite being online. This is a chance to test our creativity.
CE: What have you done to prepare for teaching digitally?
CRD: I have been researching different techniques, asking teachers who experienced the pandemic last year what to expect, and just having fun creating my bitmoji classroom and my Schoology course.
CE: Kindergarten will certainly be a challenge for remote learning. Can you describe how you plan to help your students overcome the challenges of online learning?
CRD: I have been working hard to get in contact with each parent of my students. I think creating a relationship with the parents and being in constant communication will help in facilitating the online learning. I also plan to have songs in all my whole group lessons to learn about days of the week, months, shapes, etc. I want my students to feel like they are in the classroom and not at home on their iPads. I am working on creating interactive activities, brain breaks, and games for the students to participate in to encourage learning online.
CE: What do you want your parents and students to know as they begin school year?
CRD: To the parents, I would like to say that, with their partnership, we can work together to make sure that students are online during whole group activities. The same routine we would have in the classroom, we will have online. Instead of running away from distant learning, we are going to embrace it and adjust, so each child has the opportunity to grow.
CE: What do you want your parents and students to know as they begin school year?
CRD: This learning environment is new for all of us, but we can get through it together.
CE: Anything you would like to add?
CRD: I could not be more excited to join the El Paso ISD and Moye Elementary family. This has been my dream for years and I am so grateful I get to experience it at EPISD.
Interview by Reneé de Santos