Return to Headlines
EPISD Senior Spotlight: Evelyn Nava, Silva Health Magnet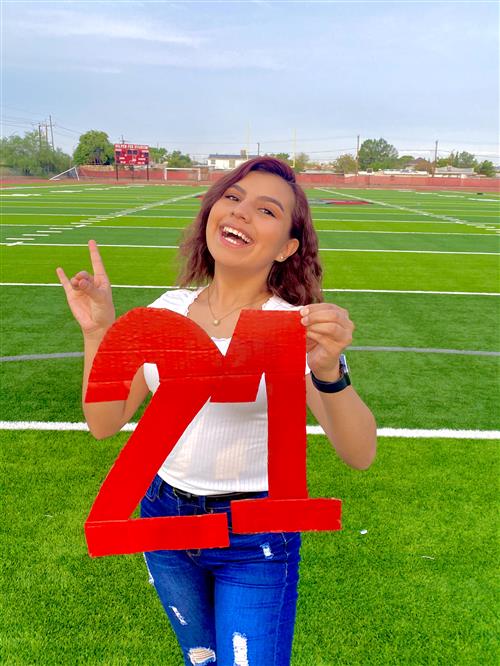 (SILVA HEALTH MAGNET HIGH SCHOOL -- Aug. 25, 2020) — The EPISD Senior Spotlight features members of the Class of 2021 who are beginning their school year virtually but full of hope and excitement. While the start of their senior year is now that they had envisioned, they still have tons to look forward.
Today we feature Jefferson/Silva StuCo president Evelyn Nava, who also is the vice president of the District IX Texas Association Councils. She plans to study psychology at the University of Texas at San Antonio after graduation and has been involved in cheerleading and band during her years at Silva.
EPISD Community Engagement sat down with Evelyn to discuss learning during the pandemic.
Community Engagement: What have you been doing to pass the time during the quarantine?
Evelyn Nava: I've been painting, drawing and dancing a lot. This helps me take my mind out of things and relax. I've also been looking into scholarships, making sure everything is ready for me to take my next big step in life.
CE: What are you doing to make the best of your senior year?
EN: I'm setting different goals for myself. Whether they are to personally or emotionally improve on myself, or simply improving the way I go about my day in school. I'll be keeping a positive mindset all throughout this year. At the end of the year, I hope to look back and be proud of myself.
CE: What are your hopes for the upcoming school year?
EN: For this upcoming year, I really hope we get to see each other at campus once it is safe for everyone. I hope I stay with a positive mindset all throughout the year and like every senior, I hope we get a graduation ceremony that we can spend with those we love.
CE: How are you staying connected with your classmates?
EN: I get to stay connected with my classmates through FaceTime and Social Media. All of our social media and FaceTime have been our best friend for the past few months. I usually check up on them & vice-versa.
CE: How has virtual learning changed the way you study?
EN: Virtual learning has really changed the way I study because like everyone else, this is all new for me. Personally, studying was a challenge before and now that I don't have physical books to look through, it's been really hard. Overall, I've been taking and practicing more note taking skills as well as having good communication with my teachers through online school.
CE: What are you doing to prepare for the upcoming school year?
EN: I'm going in with an open mind. I am aware that anything can happen. As we start the year, we are preparing to make events go live for students to enjoy just as much as they do in person. I plan to make this year a memorable one for all the Silver Foxes.
CE: What advice would you give the incoming freshman?
EN: Make the best out of these years. These are the years where you get to meet lots of people and the years where you find your true self. Get involved, know your school, make friends and never give up – keep going.
CE: Describe your workspace.
EN: My workplace is where I get to have some alone time. I have my desk lamp which helps me focus on the work I have in front of me. I'm a really organized person, I color coordinate everything and add it to my agenda/calendar. To make it my own, I added some pictures with my student council friends & pictures where I'm in the school setting.
CE: What is your go to pandemic song?
EN: My go to pandemic song has been "Tattoo" by Rauw Alejandro ft. Camilo. It helps me be in a good mood as soon as I listen to it.
CE: Anything you would like to add?
EN: Class of 2021 – let's make this year the best one yet. We are all going through this differently, make sure to stay positive at all times. Remember to always BE KIND. It costs nothing but means everything.
Interview by Reneé de Santos