Return to Headlines
Senior Spotlight: Cynthia Tarin, Bowie High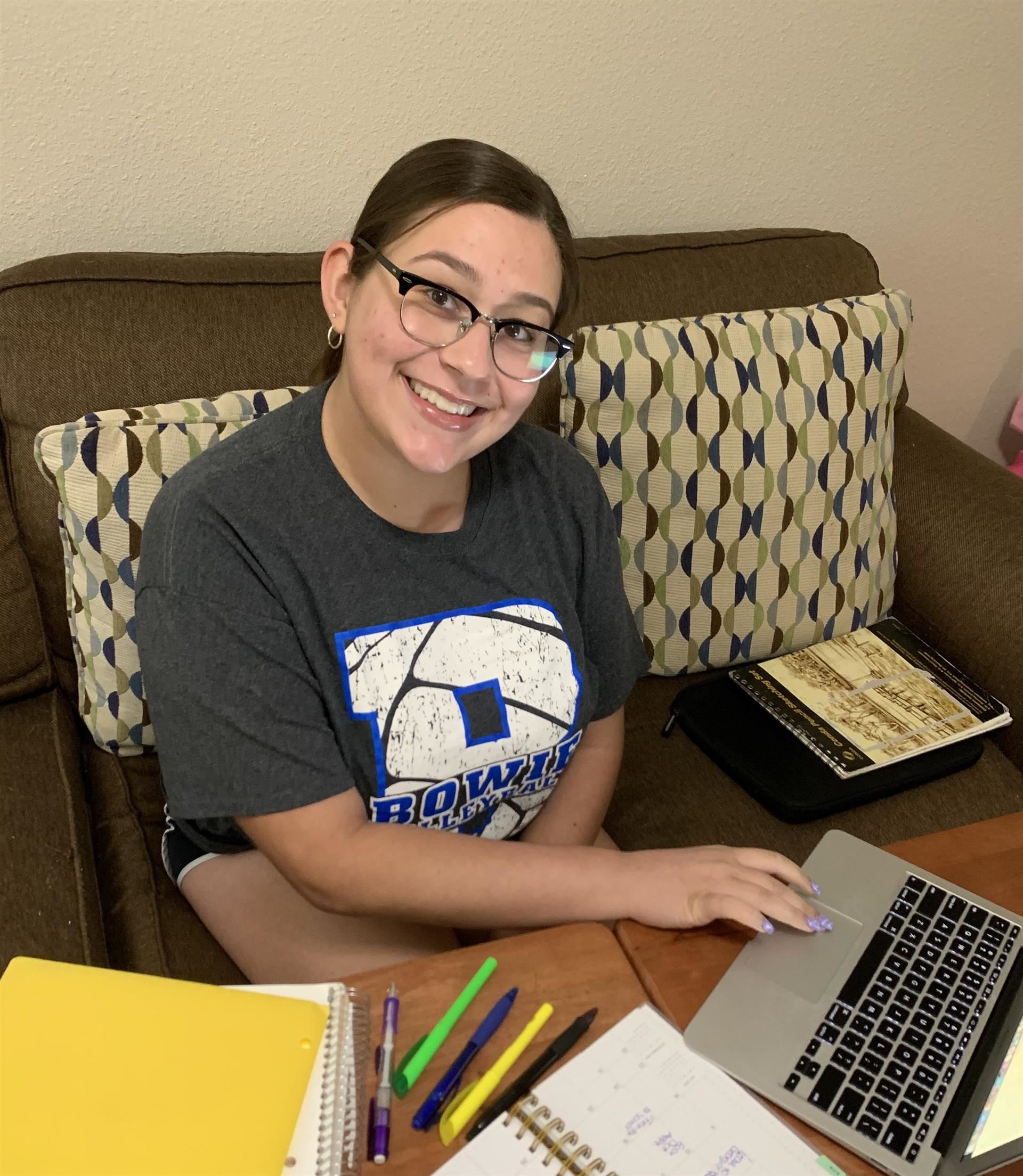 (BOWIE HIGH SCHOOL -- Aug. 26, 2020) — The EPISD Senior Spotlight features members of the Class of 2021 who are beginning their school year virtually but full of hope and excitement. While the start of their senior year is now that they had envisioned, they still have tons to look forward.
Today we feature Bowie StuCo president Cynthia Tarin. The student leader and athlete spent her summer staying in shape for volleyball, learning new hobbies and clearing and organizing her room. The future speech pathologist plans to attend the University of Houston to study communication disorders. Cynthia, a member of NHS and a Girl Scout, chatted with EPISD Community Engagement virtually to give us her take on her remote learning during her senior year and offered some sage advice to incoming freshman.
Community Engagement: What are you doing to make the best of your senior year?
Cynthia Tarin: I'm going with the flow. I'm learning to understand the importance of flexibility in life. I'm anxious to participate in the traditional senior customs just aware that the participation level may differ post COVID-19 pandemic.
CE: What are your hopes for the upcoming school year?
CT: I hope that we will be able to have a safe and fun upcoming school year. This is new to everyone, of course, but at the same time that shouldn't mean we can't keep our rich Bowie traditions alive.
CE: How are you staying connected with your classmates?
CT: I've actively kept our Bowie StuCo Instagram page filled with school and district wide information, as well as volunteer opportunities. This allows for my fellow classmates to stay connected with each other and our community.
CE: How has virtual learning changed the way you study?
CT: I have learned time management is important when it comes to virtual school. I went from having school eight hours a day, then going to practice for two hours and still having to do homework at the end of the day. Now everything is done at home and it is up to me if I want to get it done right away or procrastinate with everything.
CE: What are you doing to prepare for the upcoming school year?
CT: I have been keeping up with my teachers even before school starting in an effort to be prepared for the first day of school, avoiding the need to meet last minute. My planner has been my best friend when it comes to virtual school. I write everything down to know what I have scheduled every day. I write when certain assignments are due or when my teacher wants to meet at a certain time keeping me organized and providing structure to my day.
CE: What advice would you give incoming freshman?
CT: Don't be afraid to try new things and get involved. Your high school years go by in the blink of an eye. I regret not trying out for other sports or joining new clubs. So, don't be scared to get out there and join new clubs, sports, and meet new people.
CE: Describe your workspace.
CE: My workspace right now is very different than my usual school desk. Currently I am in another state, Georgia, visiting my parents before we go back to school. So my workspace for school is either a tray table in the living room or the dining room table. I look forward to being back home in El Paso and using my work desk in my bedroom.
CE: What is your go to pandemic song?
CT: My go to pandemic song is "Money Trees" by Kendrick Lamar, or anything by Megan Thee Stallion.
CE: Anything you would like to add?
CT: Being the Student Council president of the historic Bowie High School is such an honor. When it comes to representing my school, I cannot wait to have an amazing year no matter what happens. Once a Bear Always a Bear.
Interview by Reneé de Santos