Return to Headlines
EPISD Senior Spotlight: Emily Leon, Irvin High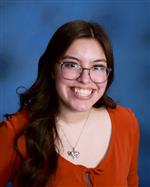 (IRVIN HIGH SCHOOL -- Aug. 27, 2020) — The EPISD Senior Spotlight features members of the Class of 2021 who are beginning their school year virtually but full of hope and excitement. While the start of their senior year is now that they had envisioned, they still have tons to look forward.
Today we feature Irvin StuCo president Emily Leon. Emily spent her summer working, painting and napping with her dogs. She expects a busy senior year staying involved in HOSA, NHS and Key Club while preparing for a possible major in biomedical sciences at Texas A&M. EPISD's Office of Community Engagement visited with her about the upcoming senior year and how she's navigating the pandemic.
COMMUNITY ENGAGEMENT: What are you doing to make the best of your senior year?
EMILY LEON: As for now, I'm trying to live in the moment even if things don't go as planned this year. I've been working closely with my fellow officers to ensure that we make this school year as "normal" as possible. We've been coming up with virtual events that I look forward to!
CE: What are your hopes for the upcoming school year?
EL: It was heartbreaking to know that many of last year's seniors did not get to participate in commencement exercises. With this being said, I really hope to be able to walk across the stage and I hope that this virtual experience will allow me to expand my knowledge on software.
CE: How has virtual learning changed the way you study?
EL: Virtual learning has definitely made me realize that I'm a visual learner. This new style of learning has also made me more resourceful when it comes to studying.
CE: What are you doing to prepare for the upcoming school year?
EL: Besides having my laptop charged and materials ready, I really want to psychologically prepare myself for what's coming. Personally, I think taking care of your mental health is very important. Therefore, I'm tried to have some relaxing days before the school year started.
CE: What advice would you give the incoming freshman?
EL: A piece of advice I'd give to an incoming freshman would be to volunteer. In my experience, helping others has changed my perspective on what my community means to me. So, I would highly recommend researching different ways to get some community service hours.
CE: Describe your workspace.
EL: Since I don't have a desk in my room, my workspace will be my family's home office. It's comfortable, and I feel like I can truly focus there. In order to stay organized with my classes and my extracurriculars, I plan on using sticky notes. So, I hope to have one at least one wall covered in Post-Its.
CE: What is your go to pandemic song?
EL: My go to pandemic song has been "Nothing Even Matters" by Lauryn Hill.
Interview by Reneé de Santos