Return to Headlines
EPISD Senior Spotlight: Aron Basurto, Coronado High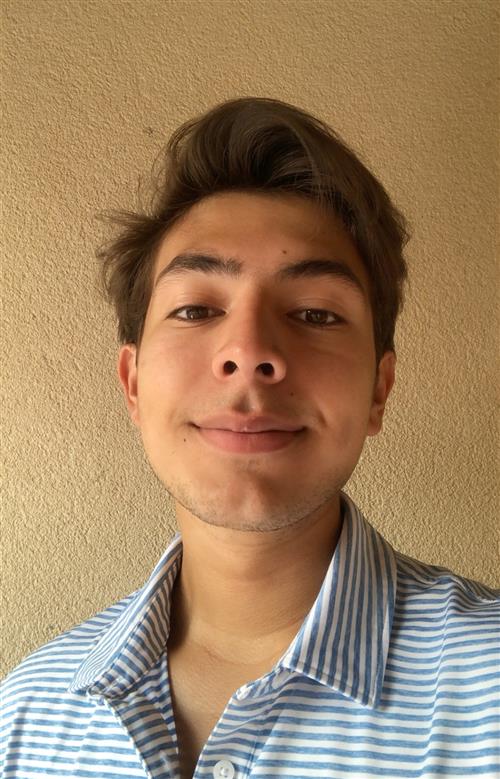 (CORONADO HIGH SCHOOL -- Aug. 28, 2020) — The EPISD Senior Spotlight features members of the Class of 2021 who are beginning their school year virtually but full of hope and excitement. While the start of their senior year is now that they had envisioned, they still have tons to look forward.
Today we feature Coronado StuCo president Aron Basurto, who spent his summer running and working out, reading and working at a local coffee shop. The future cardiovascular surgeon hopes to major in biology and minor in neuroscience at the University of California. In the meantime, he'll be busy at Coronado as the yearbook's editor-in-chief and participating in the Future Doctors of America Club, Young Life and Fellowship of Christian Athletes. EPISD's Office of Community Engagement visited with him to chat about his expectation for the upcoming school year and his take on remote learning.
COMMUNITY ENGAGEMENT: What are you doing to make the best of your senior year?
ARON BASURTO: I am hoping to get all of my college applications figured out first semester so that way it will be less stressful second semester. Making what memories I can with my friends is something I hope to do, but mostly just self-improvement while looking into the future.
CE: What are your hopes for the upcoming school year?
AB: For the upcoming school year, I hope to be engaged with my school community in whatever way possible and continue to learn new things in classes that I am interested in. I am also hoping by the end of the year to regain some normalcy so our senior year events and last hoorah won't be totally virtual.
CE: How are you staying connected with your classmates?
AB: I am staying connected with my classmates via several social media platforms in which I can check in with them, keep them posted on new school information and just to be there for them in case they need anything.
CE: How has virtual learning changed the way you study?
AB: For me, virtual learning was somewhat a struggle at the beginning. Being a hands-on learner, it was difficult to grasp all the content 100 percent, but realizing this was going to be the new way of learning I started to adjust. I began watching YouTube videos if I did not get a math lesson. I invested in blue-light protective glasses because after looking at the screen for a long time my eyes would get irritated. But the biggest thing I changed about the way I studied was being more independent. Instead of asking questions or having a study group, I would try to figure it out on my own to make sure I would have the lesson perfected.
CE: What are you doing to prepare for the upcoming school year?
AB: For the upcoming school year, I have been trying to read books to keep me thinking instead of doing absolutely nothing and have a wake-up call before school. I also made sure I was enrolled in at least one summer course since I had lots of spare time to keep being productive. As soon as my schedule came out, I began looking up course overviews on the classes I would be taking and the material that would be covered just to get a step ahead.
CE: What advice would you give the incoming freshman?
AB: My advice to an in-coming freshmen would be to not be afraid of getting involved early. Whether that be joining a club you are passionate about being in, or maybe even starting your own club that you have always wanted to do. Explore your curiosity to the best you can and always look to keep enhancing your knowledge because there is always something new to learn.
CE: Describe your workspace.
My workspace started off very generically: a white desk with a cup full of headless pencils. I had previously done most of my work at school with no need to use the desk. When I first started to use it, the bland wall I was staring at gave me a box of isolation vibe. I changed it by putting my favorite vinyl records on the wall, so I would have something cool to look at while studying. I then invested in a white LED lamp, which I would recommend doing because it lights up my workspace and can keep my eyes peeled for hours since it's so bright.
CE: What is your go-to pandemic song?
AB: My pandemic song has to be "You Know It" by Colony House because it is such a positive vibe booster. Since there is not much to do, this song can keep you driving with that movie-feeling energy.
Interview by Reneé De Santos