Return to Headlines
EPISD Q&A: Claudia Borunda, Coronado cafeteria manager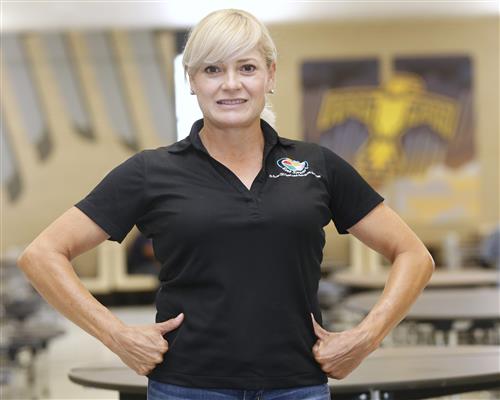 (CORONADO HIGH SCHOOL -- Aug. 28, 2020) — EPISD Food Service staff plays an important role in ensuring students receive nutritious meals regardless of whether they're learning on school grounds or at home. Coronado High's cafeteria manager Claudia Borunda is doing her best during the pandemic making meals and a difference for hungry students.
We sat down to have a socially-distant conversation with Borunda and get her take on the food service during the pandemic.
EPISD: How has the pandemic affected your job?
CLAUDIA BORUNDA: There have been many changes on the way we provide meals. For example, Food and Nutrition Services implemented curbside pick-up in order for us to keep providing meals to the community during the summer and now during the school year.
EPISD: What are you doing to remain positive during this time?
CB: I try to focus on the good and positive things that this situation has bought us. One of them is that it has united people in the community.
EPISD: How does it make you feel to be able to continue providing meals for students during COVID-19?
CB: It makes me feel awesome to know that we are helping families in need. We know that for many families, school meals are the only access to healthy food they have, so this service is very important to them.
EPISD: What would you like to say to encourage students to continue to eating school lunches during remote learning?
CB: By eating with us, they keep a sense of normalcy during these difficult times. It keeps them connected to the school and reminds them that there's someone out here who cares about them.
EPISD: What's your favorite food to make and serve to students?
CB: Hot sandwiches and tater tots.
EPISD: How have meals changed in your own home?
CB: I've adjusted my budget and am buying more basic items instead of the more expensive products like meat and salmon. We all have had to make sacrifices during the pandemic.
EPISD: Do you have a go-to pandemic song to help keep you positive during this unprecedented time?
CB: "I Believe That We Will Win" by Pit Bull.
Interview by Reneé de Santos
Photo by Leonel Monroy