Return to Headlines
EPISD Senior Spotlight: Heidi Armstrong, Andress High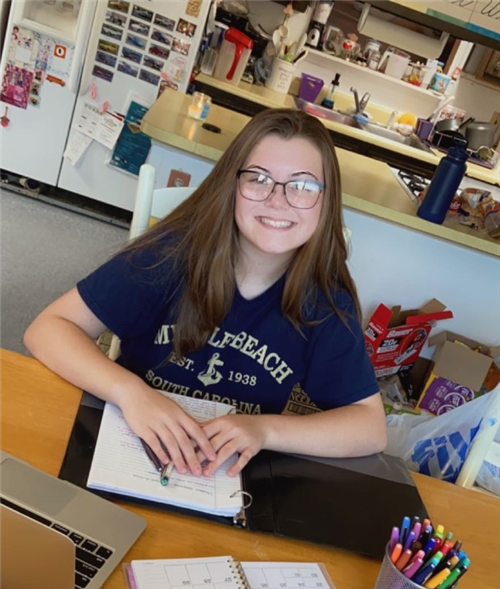 (ANDRESS HIGH SCHOOL -- Aug. 31, 2020) — The EPISD Senior Spotlight features members of the Class of 2021 who are beginning their school year virtually but full of hope and excitement. While the start of their senior year is now that they had envisioned, they still have tons to look forward.
Today we feature Andress StuCo president Heidi Armstrong, a great student leader who stayed active this summer by running, helping her dad with home construction and soaking up extra family time. The future English teacher plans to enroll at UTEP next fall, and ultimately become a student activities manager. EPISD's Office of Community Engagement sat down with her for a virtual interview for her take on her senior year in quarantine and how she's going to make the best of it.
COMMUNITY ENGAGEMENT: What are you doing to make the best of your senior year?
HEIDI ARMSTRONG: I have been getting very involved in with what's going on and all the changes that are being made to the new year. I just recently picked up my letterman jacket and having my patches on it makes me wish I could be at a Friday night game with my friends
CE: What are your hopes for the upcoming school year?
HA: I am hopeful that we can carry out our traditions safely. Because the pandemic is happening during my senior year, I am being very hopeful that it'll go away as soon as possible so that maybe by January we can have a normal senior year.
CE: How are you staying connected with your classmates?
HA: I have stayed connected with my classmates through social media via the Andress Instagram page and FaceTiming my friends.
CE: How has virtual learning changed the way you study?
HA: Virtual learning has definitely been a new experience. Some classes are easier than others having to look up a textbook and flip between multiple tabs. It has shown me that I can't procrastinate and I need to manage my time better. I've gotten used to it and it's not as bad as it was in the beginning.
CE: What are you doing to prepare for the upcoming school year?
HA: I have been emailing my counselor back and forth to make sure my schedule is correct and that I have all the credits I need to graduate. Everybody needs a planner so you can keep all your assignments and upcoming events in one place.
CE: What advice would you give incoming freshman?
HA: My best advice is to not be afraid to join different clubs, sports, or extracurricular activities. Joining student council my junior year was the best decision I've made throughout my high school year. I wish I would've joined sooner.
CE: Describe your workspace.
HA: I prefer to work at the kitchen table because it gives me more room and I can spread all of my school work out. I have organized it so that I have pens and pencils within reach and my notebooks.
CE: What is your go to pandemic song?
HA: My go to pandemic playlist is anything by Harry Styles because all of his songs calm me down.
CE: Anything you would like to add?
HA: To the class of 2021, this isn't how we expected our senior year to be but we'll get through it and make the best memories together whether they're virtual or 6 feet apart.
Interview by Reneé de Santos