Our School

We are proud that our school is named Paul C. Moreno Elementary. Former Representative Paul C. Moreno overcame many obstacles to become our representative in the Texas House of Representatives. He holds a record. He is the only Hispanic who has held a legislative office longer than any other in the entire United States for 41 years!

Paul C. Moreno was born here in south El Paso in what is known as "Segundo Barrio". He graduated from Bowie High School. After high school he enlisted in the U.S Marine Corps serving in the Korean War. He received his bachelor's degree at The University of Texas at El Paso. He then got his law degree at The University of Texas at Austin. Mr. Moreno passed away at the age of 86 on September 1, 2017.

When his school was dedicated in the year 2000, Mr. Moreno wrote a thank you letter to the parents, faculty and students of Moreno Elementary. He said, "One of the greatest accomplishments in life is to have a school named after oneself". Mr. Moreno chose the dolphin as our school mascot because they are highly intelligent creatures that are also kind and social.

Mr. Moreno visted our school frequently and would stay and visit for several hours greeting our students, parents, and staff. Our students believed that Paul Moreno owned the school. His presence fills the school and his memory will live on in the hearts and minds of each student that his kindness touched.
Principal

Christina Chapa

Assistant Principal

James Davis - Discipline

Important Numbers


Main Line (915) 236-0400




Fax (915) 566-5163




Email moreno@episd.org

Discipline (915) 236-0400 (Ext. 60405)
Student Records acontrer@episd.org


Student Records Fax (915) 566-5163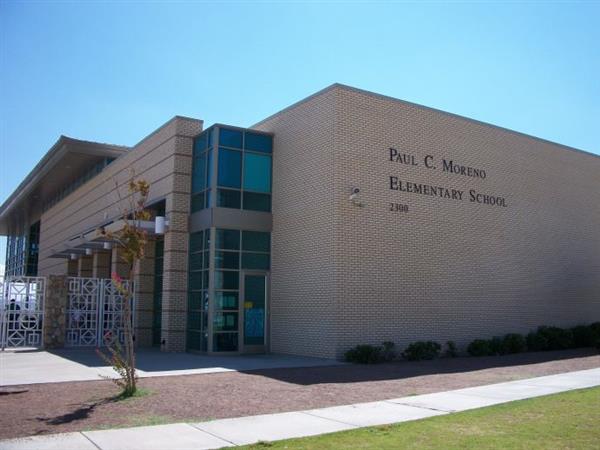 School Info

Address

2300 San Diego Ave, El Paso, TX 79930

Grades

PK-5th grade

Mascot

Dolphins

School Colors

Teal