Return to Headlines
NASA taps Chapin senior for national webinar panel on student internships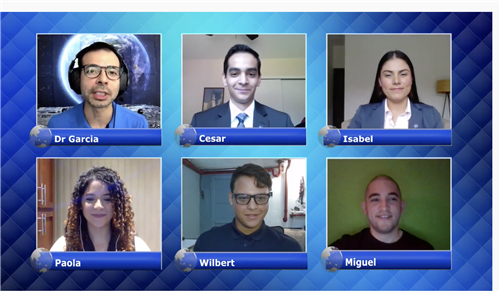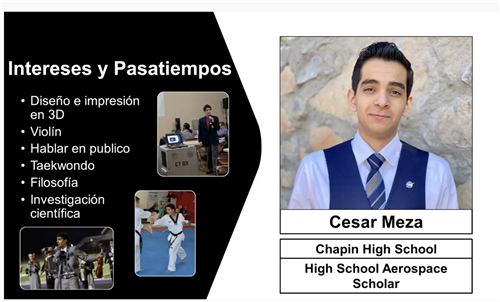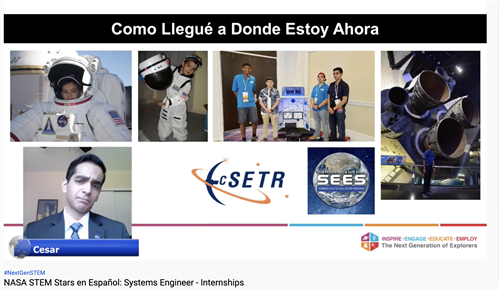 (CHAPIN HIGH SCHOOL -- Oct. 15, 2020) — A lifelong interest in space exploration for Chapin senior Cesar Meza lead to a coveted internship with NASA last year that was so successful the agency asked him to be a featured panelist on a live YouTube program this week.
Meza joined other teen interns for the NASA Stars en Español web series to offer potential interns a glimpse into what they could expect if they're selected to work at the space agency. The series targeted Spanish-speaking students like Meza.
EPISD spoke to Meza about his internship, NASA's interest in him and his future plans.
EPISD: How did you become a NASA intern?
Cesar Meza: Last year, I had been eyeing the Texas High School Aerospace Scholars program (HAS) through the posters my magnet coordinator had hanging on the walls outside her office. However, I thought it was too late to apply until one of my second-year engineering teachers told me that the application was still open. Without a second thought, I decided to apply – hoping for a chance at connecting with the organization with which I longed to work.
EPISD: What did the program entail?
CM: The first four months of the Texas High School Aerospace Scholars Program are all online, consisting of a graded online course focusing on NASA's past, present and future. However, since I was amongst the top participants in the program, I qualified for the on-site portion at the Johnson Space Center, where students work together for a week to create a virtual mission to the moon with NASA professionals' consultation. As you can imagine, the pandemic barred any hope of traveling to Houston, but we still partook in an online version of the program. My team and I developed a conceptual Habitation and Logistics Outpost Module for Gateway, humanity's first lunar-orbit space station. As the Design Engineer, my job was to incorporate technicians' research to develop a mission-safe design and ultimately create a rough 3D model of our proposed plan. Aside from the course, we frequently participated in research and promotion activities that included recording mini-speeches about our interest in NASA. Through these videos, the program coordinators became acquainted with my public-speaking abilities and invited me to be a co-interviewer of astronaut Michael Finck during the graduation ceremony. Ultimately, these last two opportunities led to my selection as the representative for HAS in the STEM Stars internships special.
EPISD: Describe today's event and what your role was in speaking to students about the internship?
CM: NASA STEM Stars is an educational outreach series on YouTube that interviews a variety of professionals currently working at NASA with the hope of inspiring young students to join the space agency or connect with the people they aspire to become. The target audience is generally students aged 13 and up. (Tuesday's) event aimed to promote NASA's plethora of internships while honoring Hispanic Heritage month by interviewing five student panelists of Hispanic descent. All I had to do was talk about myself and my experience as an Aerospace Scholar and answer any questions that the audience posed to encourage them to take action.
EPISD: How were you selected to be a panelist for the Spanish series?
CM: NASA hosts outreach webchats in both English and Spanish through the STEM Stars series. Since this past month commemorated Hispanic Heritage, education specialist Dr. Samuel Garcia wished to interview and honor NASA workers who had not previously appeared in the Spanish shows: interns. My old program directors approached me since they had already seen me speak both throughout the program and with an astronaut during the graduation ceremony. In short, they asked, "can you do what you did for us but in Spanish?" When I answered yes, I became the next student panelist for NASA STEM Stars en Español.
EPISD: You gave some great advice to students at the end of the presentation about your dreams? Can you share your thoughts with us?
CM: Every night, I look up at the stars, at the moon, and at Mars right behind it, thinking one day. One day I can work at NASA. One day I can be part of this journey. At one point, you love something so much that you can't wait another day - you long to do something extraordinary today. That's what this program was for me, an impetus to take action, and I encourage all students to find whatever that impetus maybe for them. Why wait for tomorrow to come when you can make it come true today? Don't lose hope and think that perhaps that day may never come, for while much of life's boons are earned by the intelligent, the tenacious can earn so much more. If they say becoming an astronaut is 50 times more challenging than being accepted into Harvard, apply 50 times. Live that dream today, and let your revelries may become a reality. Easier said than done, I know, but at the end of the day, that's what most opportunities in life boil down to: small steps, turned into giant leaps.
EPISD: What are your career goals for NASA?
CM: I hope to apply to NASA's Pathways Program, which is a breed of an internship where students may be directly employed at their participation site. The two centers I'd love to work at are either the Jet Propulsion Laboratory in Pasadena or the Johnson Space Center in Houston, where I could hopefully pursue a career focused on scientific-based research or engineering design and development of experimental technologies.
EPISD: Where do you plan to study and where after you graduate from Chapin?
CM: Frankly, I plan to study at whatever college I apply to accepts me and is closest to a NASA center or facility. Sure, I have my eye on a couple of dream colleges, but I know not if they will accept me. What I do know is that wherever I go, my dream of working at NASA will burn brightly, alight by whatever opportunities are present. Through HAS, we spoke with scientists and engineers at NASA, all of which graduated from a diverse array of colleges. Too soon do we high schoolers forget that the place where one learns does not matter as much as a drive to apply that learning beyond the classroom, no matter what that knowledge may entail.
EPISD: Anything else you'd like to add?
CM: The application for the Texas High School Aerospace Scholars program closes next Wednesday, on Oct. 21. Any junior in high school with a passion for space, a dream of working at NASA, or an interest in learning something new about the latest developments in Aerospace industries should undoubtedly apply. You can apply at https://nas.okstate.edu/has/index.html#