Return to Headlines
Coronado trombonist to take part in Philadelphia International Music Festival virtual master class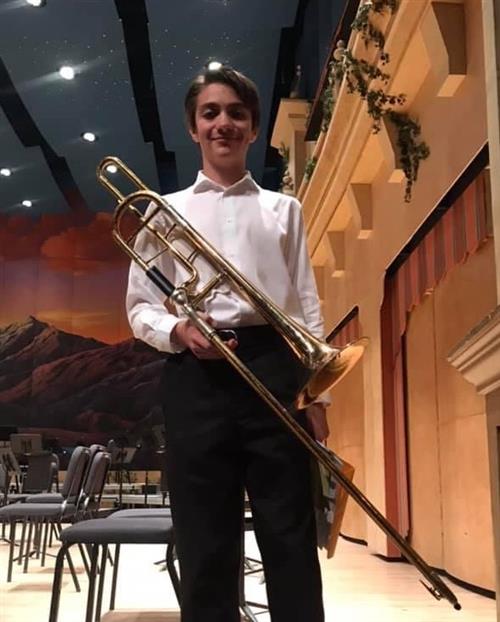 (CORONADO HIGH SCHOOL -- Oct. 22, 2020) — Trombonist Andrew Griñé's talent and dedication to his instrument earned the Coronado sophomore a coveted spot in the Philadelphia International Music Festival's (PIMF) virtual master class this week.
This prestigious online master class series attracts auditions from gifted musicians all over the world eager to perform for star musicians of the Philadelphia Orchestra who are part of the PIMF faculty. It was Griñé's first time auditioning for this opportunity.
"We've been seeing some very high-caliber young musical talent submitting extraordinary auditions," says PIMF President Sandy Marcucci. "We're delighted by the enthusiasm and so heartened to see how young musicians are pursuing their musical passion with a will to learn and improve in spite of so much disruption."
Griñé will play Friedebald Græfe's Theme and 1st and 2nd variations from the Grand Concerto for Trombone before Philadelphia co-principal trombonist Matthew Vaughn and a worldwide online audience during the interactive master class Friday. Vaugh will then offer analysis and constructive criticism along with supportive running commentary from viewers in real time.
"It is a great honor to be selected to participate in this masterclass, and I am very excited to get to not only perform for the international audience, but to get to learn from Mr. Vaughn as well, so that I may improve as a musician," Griñé noted.
The piece he selected is a one-hit wonder by Friedebald Græfe written during the Romantic era.
"I chose to play this piece because it was recommended to me by my private teacher as a solo that would help to improve several aspects of my playing, as the piece encompasses a large range and requires a lot of endurance," Griñé said. "I enjoyed how it sounded and over the last year I have been diligently working on it to be able to perform to the best of my ability."
Griñé began playing trombone in summer band camp at Lincoln Middle as a rising fifth grader. Coming from a musical family, he grew up around instruments and was drawn to the trombone's sound and the interesting effects from the slide. He proceeded to earn 1st divisions at Solo and Ensemble competitions and All Region honors in all his middle and high school years and advanced to the Area level as a freshman.
"I typically spend anywhere from an hour to three hours practicing every day," he said. "I love a quote my private teacher says, 'You only need to practice every day you eat.'"
Lately, he's taken advantage of virtual music camps to work with other musicians across the country to hone his skills. He admits the virtual world has definitely changed how classes are offered but he sees the silver lining.
"Before, my music classes were much more focused on ensembles playing together as a whole, but now with a new format which we must adapt to, I have been receiving more individual attention to my playing," Griñé said. "The positive side of this change is that I have been able to work with many teachers to improve my individual musicianship."
The Coronado IB student also is involved in orchestra playing the double bass, High Q, Music Ensemble Club, Music Appreciation Club and the Key Club. After high school, he anticipates studying music or possibly agricultural science.
"No matter what I choose to study in college, I most definitely plan to maintain my love and passion for music throughout my life."