Return to Headlines
EPISD Student Spotlight: Karla F. Nemecek, Transmountain Early College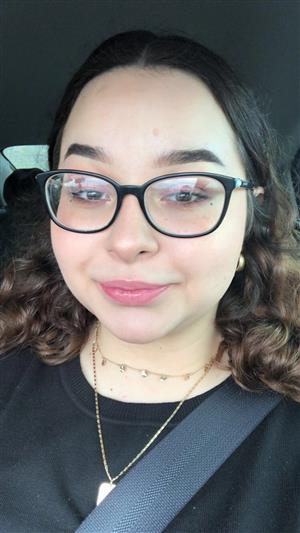 (TRANSMOUNTAIN EARLY COLLEGE HIGH SCHOOL -- Dec. 10, 2020) — TMECHS senior Karla F. Nemecek keeps an open mind during the pandemic, thinking positively and staying motivated to earn her associate's degree before her high school graduate and pursue a business degree at UTEP. She shares her advice for staying focused academically amid a pandemic in this edition of Student Spotlight.
EPISD: How are you staying motivated and involved in school during the pandemic?
KARLA F. NEMECEK: I've always kept a steady mindset and even though I have my rough times I try my best to be positive. Right now, things are hard, and I've just been trying my best to juggle everything and stay happy.
EPISD: What challenges have you faced because of the pandemic and how have you overcome them?
KFN: I've been having bad on and off depression with the whole pandemic going on. I feel that I was able to control it better because I was always busy, but now that I'm always either at home or at work it's been harder to stay distracted. I have overcome this by keeping up with myself and thinking of the goals I want to achieve in the future.
EPISD: What advice can you give to succeeding with remote learning?
KFN: My advice would be to always try your best to have an open mind and a neutral mindset. Allow yourself to go through your negative experiences to help you learn more about yourself and the world.
EPISD: What are you doing to make the most of your senior year despite the pandemic?
KFN: I have been working a lot. My main goal right now is to save up for college and hopefully buy a car by the middle of next year. I try my best to keep up with my loved ones and keep myself busy overall.
EPISD: What are your honors and achievements in high school?
KFN: I am a part of my student ambassadors' group at school as well as maintain a 4.0 GPA and keep a steady job. I'm utterly grateful for the experiences my school has brought me allowing me to receive my associates as well as my high school diploma.
EPISD: What advice would you give incoming freshmen?
KFN: The advice I would give to the incoming freshman would be trying to stay as motivated as possible. The result is worth it and it's going to get hard, but that when you need to reassure yourself you can do it. Never be close-minded and always be kind.
EPISD: What is the first thing you plan to do when the pandemic is over?
KFN: The first thing I really want to do when this pandemic is over is to spend time with my friends and go out to the movies with my family.
EPISD: Anything you'd like to add?
KFN: Something I really want to stress for students and people, in general, is to always keep an open mind and understand from everyone's point of view. Looking at things like that will help you grow, don't judge right away, keep a kind heart, give the person/experience a chance before you shut it down.
Interview by Reneé de Santos