Return to Headlines
Lincoln student is finalist in Land Commission essay contest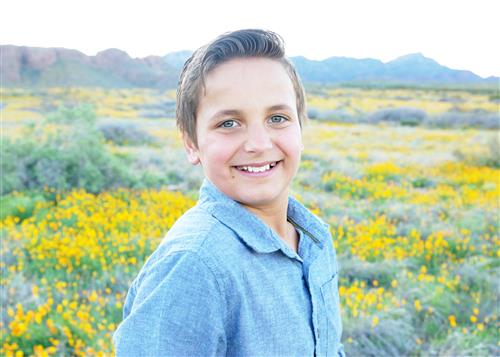 (LINCOLN MIDDLE SCHOOL -- Dec. 15, 2020) — An essay outlining the impressive history of the beautiful R.R. Jones Stadium at El Paso High School landed Lincoln Middle student Stone Jessup on the list of finalists for the Texas Land Commission's 2020 Save Texas History Essay Contest.
The seventh grader delved into the history of El Paso High's iconic stadium in answering the prompt: "What history in your community is worth saving?" He followed the history by researching Gen. John Pershing who inspected his troops there in 1916 to it being the birth place of the Friday Night Lights tradition. Stone is one of four statewide finalists in the seventh-grade category and received a $100 gift card and other Texas goodies. The winner received a $500 gift card.
"It is about the fascinating history of the El Paso High School stadium, which includes being the staging site for American troops chasing Pancho Villa, horse parades after winning WWI, and one of the first stadiums to be equipped with lights starting 'Friday night lights' culture in Texas," Stone said.
He and his parents spent several weeks learning about El Paso landmarks before settling in on the historic stadium.
"While researching various places in El Paso, I learned about the stadium's history being the first in Texas with lights, and that interested me," said the Lincoln football player. "I love football. After reading more about the stadium and its history, I knew that is what I wanted to write about."
The seventh grader, whose favorite subjects are science and social studies, participates in UIL and plays viola in the orchestra. He enjoyed learning about El Paso High and encourages other students to enter in the next round of the annual essay contest.
"I am proud of my essay and I am grateful that it was recognized," he said. "I was thrilled. It is a great honor."
Stone concluded his essay by answering the essay topic question with a strong statement on its historic value to the city.
"Be it soldiers preparing to defend the U.S. from invading revolutionaries, or home team high school kids defending their field, this stadium has been the beating heart of the history of this city, and should be preserved as such, for future generations."
To read the complete essay, click here.