Return to Headlines
EPISD Q&A: Jessica Silva, librarian at El Paso High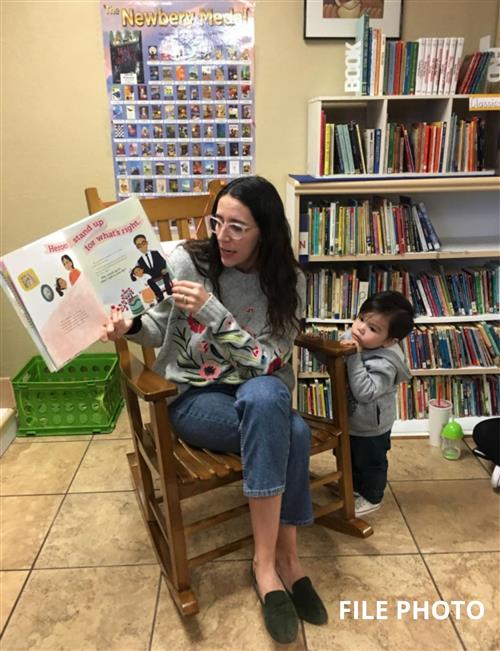 (EL PASO HIGH SCHOOL -- Dec. 2, 2020) — At age 15, while a student at El Paso High, Jessica Silva wrote in her diary that it would be fun to one day work as a librarian. In what proved to be a prophetic entry in her journal, Silva is now the librarian at her alma mater and revels in sharing her enthusiasm for books and information with a new generation of Tigers. Silva shares how she's turned her library virtual and engaged students on Instagram to promote reading and its calming effects during the pandemic in our latest EPISD Q&A.

EPISD: Why did you become a librarian?
JESSICA SILVA: My dad reads a book a day. As a kid, I started reading very young and I would go to the library at Putnam and my parents took me to the public library often. I became a massive bibliophile. I am obsessed with books and libraries and bookshops and covers and design and reading and research. I love connecting people to information. Also, when I was 15 and a student at EPHS, I wrote in my diary about how it might be nice to be a librarian and work surrounded by books all day – so manifestation works.
EPISD: What's your favorite book/genre?
JS: This is such a hard question for a librarian, it's like asking a parent their favorite child. But I love Sylvia Plath's "The Bell Jar," "Just Kids" by Patti Smith and anything from Elizabeth Acevedo. I love children's books and Kadir Nelson's work as well. I read mostly realistic fiction and magic realism and poetry, but I read all genres.
EPISD Why is the library so important for students especially during the pandemic?
JS: Reading is such a beautiful process. It is calming and it really helps you grow and learn about who you are and what the world is, in a way that doomscrolling can't. I always think about Rudine Sims Bishop quote:
"Books are sometimes windows, offering views of worlds that may be real or imagined, familiar or strange. These windows are also sliding glass doors, and readers have only to walk through in imagination to become part of whatever world has been created and recreated by the author. When lighting conditions are just right, however, a window can also be a mirror. Literature transforms human experience and reflects it back to us, and in that reflection we can see our own lives and experiences as part of the larger human experience. Reading, then, becomes a means of self-affirmation, and readers often seek their mirrors in books."
EPISD: What kind of response have you gotten from your students?
JS: I think we have a really great amount of engagement on Instagram. We always used social media, but doing reader's advisory, book recommendations, and simply chatting via Instagram has been so important. Each week, we do contests and polls and questions on our stories. We always get a really good amounts of responses, and it helps students find new books to read. Even though we have been virtual, I feel like we can still bond.

EPISD: How do you reach out students who may not have sought the library out during the pandemic?
JS: A definite positive to being virtual is that students can connect to the library 24/7 from home virtually, through social media or our website. Maybe some students wouldn't be visiting the library daily, but they watch our Instagram stories or can see our tweets to feel like they're in the library.
EPISD: Describe your transition to creating virtual library programs for students?
JS: We completely re-designed our website, kind of re-branded, as well as added video tutorials for on how to access all of our resources. There has also been a huge shift into more marketing of the library on social media, as well as promoting our electronic resources and the databases. We also purchased a lot of new culturally relevant and diverse audiobooks and e-books for students to enjoy.
EPISD: What have you done in your virtual library to ensure engagement?
JS: I think through our social media accounts, we are still able to connect with students virtually. Our Instagram really allows for us to engage with our students about book-ish content, I love creating content to engage students and sharing student's responses.
Each week on our Instagram we do contests and polls and questions, things like: what is a book that everyone should read, your favorite book from childhood, or send in a song or emoji for a book rec. We also did book recs based on tv shows or movies that students submitted, and this is a great way to figure out some books you'll like. We also had book club Instagram takeovers and we share content about new books, authors, or books about social issues. We post research tips, college essay tips, and books for different themes.
We also do tech tip Tuesday and what are you reading Wednesday? Book club also hosted a virtual pumpkin carving party, and we have had some giveaways! In the summer, the library held a racial justice information session with faculty speakers. We also had an author visit from El Paso author Sylvia Zeleny and hosted voter registration events.
EPISD: What's the first thing you plan on doing after the pandemic in your library?
JS: Book club will host a party – complete with prizes and book speed dating (students try different genres of books instead of different dates) and definitely pizza and maybe donuts or a Great British Bake-Off style pot-luck.
EPISD: Anything you'd like to add?
JS: Reading for pleasure is so important. And because I am an information specialist and have to include some research and data: just five minutes of reading can significantly reduce stress and 20 minutes a day of reading for pleasure can score you in the 90th percentile of standardized tests.
Interview by Reneé de Santos