Return to Headlines
STEPS teen-ran virtual tutoring program now ready to help more students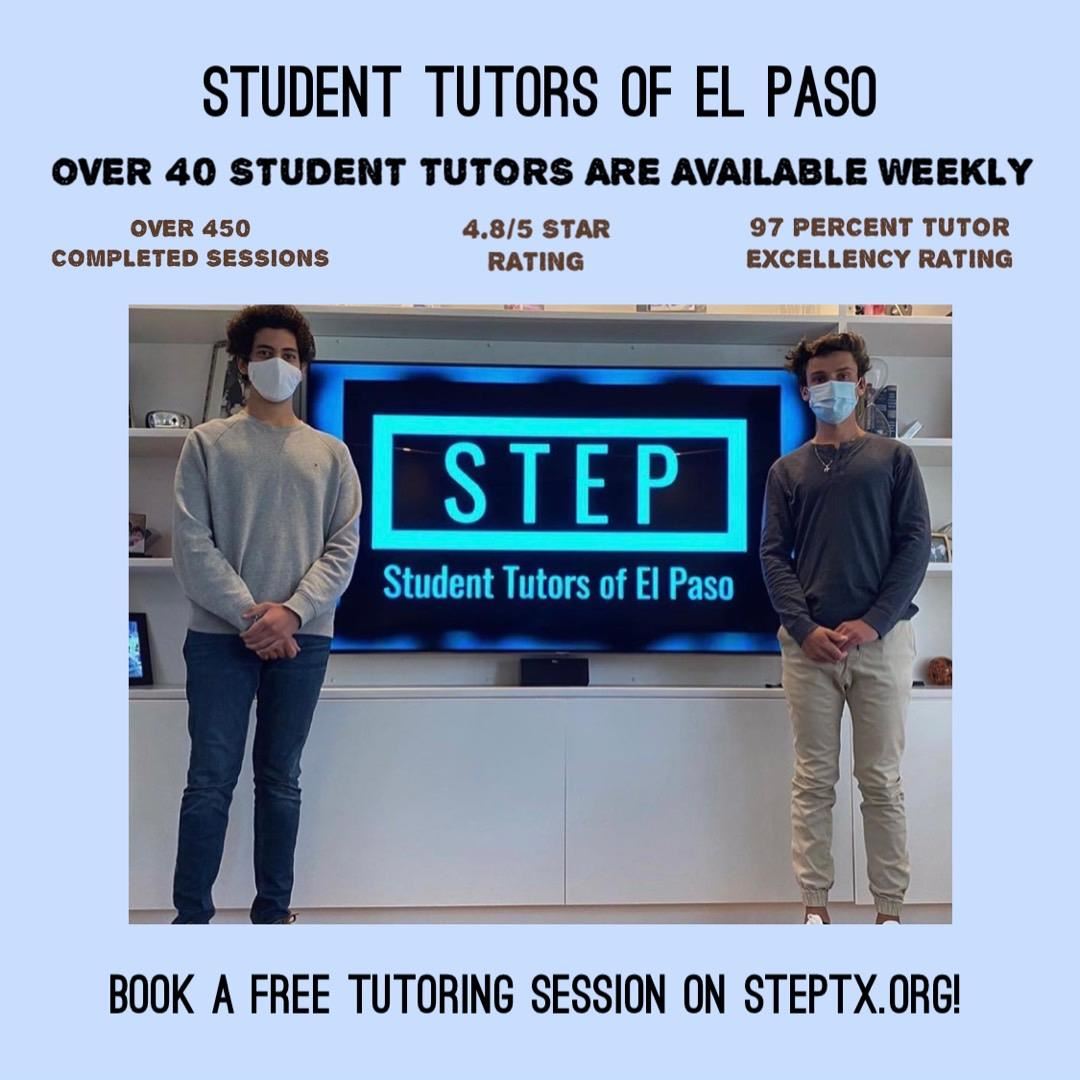 (CORONADO HIGH SCHOOL -- Dec. 2, 2020) — Student Tutors of El Paso, the brainchild of two Coronado High seniors, has become a well-oiled machine since its inception earlier this school year, and it is now ready to serve even more students.
The entirely-student run program (STEP for short) has 40 high school student tutors mostly from EPISD providing free virtual help to 3rd through 12th graders who are struggling with math, English arts and science classwork.
"With virtual learning, many students need the material they learned to be reinforced in a one-on-one session," said Jordan Katz, co-founder. "That's what many of our students do. They arrive, show us what they've learned today and what they don't understand, and we help them through it. This is even more important in the elementary and middle school math classes because those math skills will be utilized their whole academic career."
Katz and co-founder Hamzeh Hamdan have seen the program grow with tutors who have helped with more than 450 tutoring sessions since school started. They have the capacity to help even more students, even expanding their offering to include an option for bilingual students who prefer tutoring in Spanish.
"Our team includes several brilliant Spanish speakers who are happy to help," Hamden said. "To book a session in Spanish, write it in the description at the end and we will make sure to accommodate for it."
The program has successfully received feedback with 4.8 out of 5 stars and more than 95 percent of students responding that they will likely return for more help.
"We're always really happy when our students follow up with us and share their academic successes," Hamdan said. "I was tutoring one of our regulars the other day and she told me she had received a high A on her math test. Students are always helped with a session, whether it's to learn a subject or just to reinforce it."
The co-founders are proud of the success of the program, crediting the tutors who volunteer to work with their peers.
"They are all exceptional high school students that are proficient in the subjects they teach," Katz said. "We are always open to new tutors joining our team. STEP was created to establish a network of academic help among students, and we are grateful for any student that adds to the network. You can apply to become a tutor at steptx.org/apply."
STEP has utilized many of its resources to ensure that its security remains one of its strongest aspects. The have spent hours working on booking, scheduling and meeting processes to create safe and private tutoring sessions. To sign up for a session, go to steptx.org.