Return to Headlines
EPISD Student Spotlight: Gilberto Orozco Jauregui, El Paso High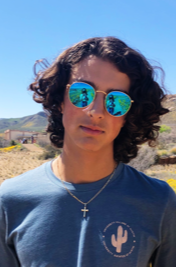 (EL PASO HIGH SCHOOL -- Oct. 12, 2020) — Senior Gilberto Orozco Jauregui has dedicated his four years at the Lady on the Hill to academics, extracurricular activities and service amassing more than 500 hours of volunteer hours. This year, he's set his focus on being accepted to attend either the University of Southern California or the University of Texas at Austin, where he plans to earn a business degree and later go to law school. He shared some advice for his peers and freshman about surviving high school and life in quarantine in EPISD's next Student Spotlight.
GILBERTO OROZCO JAUREGUI: What are you doing to keep up school spirit with your classmates during the pandemic?
EPISD COMMUNITY ENGAGEMENT: The biggest motivation for many students aside from learning, is being able to connect with peers and socialize with friends. By taking the physical aspect of connecting with peers away school spirit goes down, so I make sure to zoom with my friends and classmates outside of school. Whether it be for homework or just to catch up, seeing a friendly face and talking comfortably can go a long way.
GOJ: What advice can you give to succeeding with remote learning?
CE: Staying glued to our screens for seven to eight hours a day can be draining to our energy. Personally, playing the guitar, exercising and family time are just some of the little things in life that keep me going and distract me a bit from remote learning. Even now, with so many restrictions on our lives for our safety, it is so important to keep sight of our hobbies, passions, and the things we love. Overall, I've found that just a little bit of 'me-time' is a great motivator.
GOJ: What are you doing to make the most of your senior year despite the pandemic?
CE: It's hard to keep our heads up knowing how much the world around us has changed, especially for us seniors who see our plans and traditions get cancelled or postponed every other day. Seeing how so much has been taken from us due to the pandemic, I try and take advantage of every opportunity that is presented to me, but above all, I hold on to my hope and assure myself that I will get to experience my last homecoming, prom, Spring Fiesta and my graduation. When the time comes, we will all be able to have the senior year we deserve.
GOJ: What are your honors and achievements in high school?
CE: During my time in high school, I have amassed over 500 hours of community service, have been elected the Junior Class President, Senior Class Historian, and have served twice as the Student Council Program Manager. I received my letter for academics last year after having one of the top 5 best grades of the class. I rank as No. 11 and am among the top 3 percent of students. I am also a Neubauer Family Adelante Scholar with UChicago. I qualified for the State UIL Cross Examination competition and received the All-State Leader award at the National Hispanic Institute Ambassador Great Debate.
GOJ: What extracurricular activities are you involved in?
CE: I am on the varsity tennis team where I serve as team captain. I am a member of UIL Cross Examination and High-Q teams, Chick-Fil-A Leader Academy, a member of National Honor Society, Spanish Honor Society, a previous Cross Examination trainer for the National Hispanic Institute, was a member of the 2019-2020 Junior Leadership of El Paso Cohort and am currently a tutor with the Student Tutors of El Paso (STEP).
GOJ: What advice would you give incoming freshman?
CE: I have two major pieces of advice for incoming freshman: 1. Focus on your academics from the beginning of your high school career, but remember that though academics are important, it is just as important to give yourself time to de-stress, relax and enjoy life. 2. Make the most of your high school career. As much as you have probably heard it by now, I won't refrain from saying it again: high school flies by in a blur. Meet new friends, expand your relationships and have as much fun as possible. Make high school some of the best years of your life.
GOJ: What have you been doing outside of academics to get through the pandemic?
CE: Outside of tennis practice, I have been going to my local gym in the morning before school while making sure to follow all the safety guidelines. Not only is it great exercise, but it wakes up your mind and body, allowing you to go into class feeling fresh and alert. Additionally, thanks to my music obsession, I pick up the guitar whenever I have the opportunity and just let the music flow. It really helps me get everything off my mind and even allows me to focus more on my homework and school.
GOJ: What is the first thing you plan to do when the pandemic is over?
CE: Once it is safe to go within six feet of each other and we no longer have to social distance, I want to have a get-together with all of my senior friends, no matter from what school, and embrace all of them. At that time, we can finally ring in the senior year and take part in all of our activities and traditions.
GOJ: Anything you'd like to add?
CE: To all seniors: As hard as times are right now, make the most of this year. We only get our senior year once, and we have to make the most of what we have. Make sure to give everything you have this last year and focus on the good times that are yet to come. "Love the life you live, live the life you love." – Bob Marley
Interview by Reneé de Santos