Return to Headlines
Construction of Henderson/Clardy consolidation starts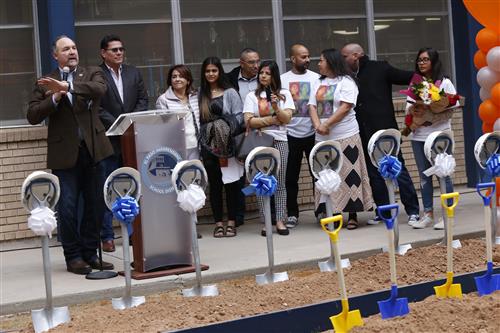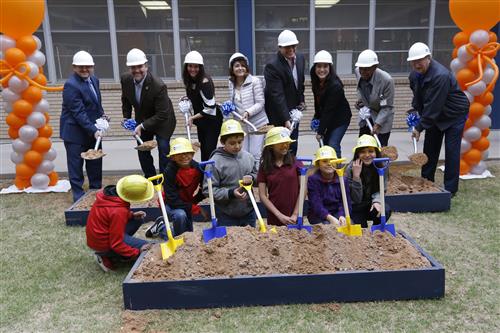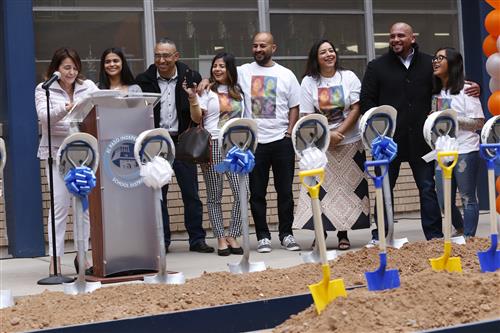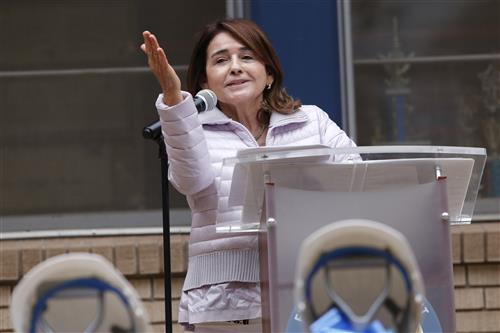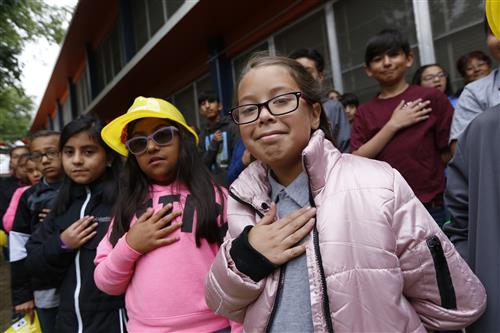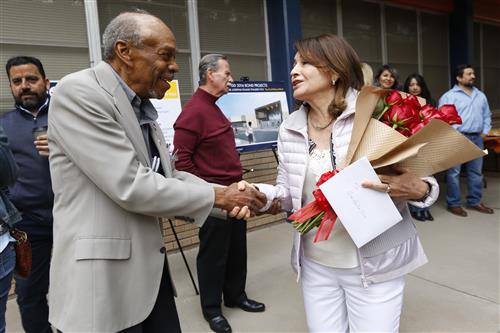 (HENDERSON MIDDLE SCHOOL -- May 13, 2019) — EPISD joined with prominent educator Dr. Josefina Villamil Tinajero and her family at Henderson Middle last week to break ground on a Bond 2016-funded school that will bear her name.
The $39.1-million project will consolidate Henderson with Clardy Elementary School into one new, modern campus, which will be ready for the 2021 school year. The project is part of the district's right-sizing efforts.
"We're super excited about this new facility," said Henderson Middle principal Jason Yturralde. "The brand-new school will add state-of-the-art labs and is being designed with 21st-century learning in mind."
Tinajero herself scooped up dirt to celebrate the construction of the new school being built in the neighborhood where she grew up. The former Dean of the College of Education at the University of Texas at El Paso, Tinajero is a prominent educator considered to be a national leader in the promotion of bilingual education. She spent her career working with students, teachers, administrators and families.
"This is just so very amazing," she said. "To have the two schools, Clardy and Henderson schools, that I attended, merge and bear my name is just something that I never dreamed about. I'm very, very thankful for those that made this possible. It's such wonderful recognition and honor that I am humbled by."
Dozens of Clardy Elementary students donning yellow hard hats visited the site of their future school – some taking their turn at the dirt with pint-sized shovels.
"I'm excited about how pre-k through eighth will all be in one school," said second-grader Evelyn Rodriguez. "I really want to be a middle schooler and I like to play basketball."
Tinajero, who grew up in a family of nine living in public housing, addressed Evelyn and her classmates during the ceremony to stress the importance of education.
She challenged them to become National Junior Honor Society members as she did as a Henderson Hornet. But most importantly, she shared with them her lifelong motto:
"I want to send a message to all the young people that if you can dream it and you can believe it, then you can achieve it."
Story by Reneé de Santos
Photos by Leonel Monroy