Return to Headlines
EPISD Student Spotlight: Drew Frank, Coronado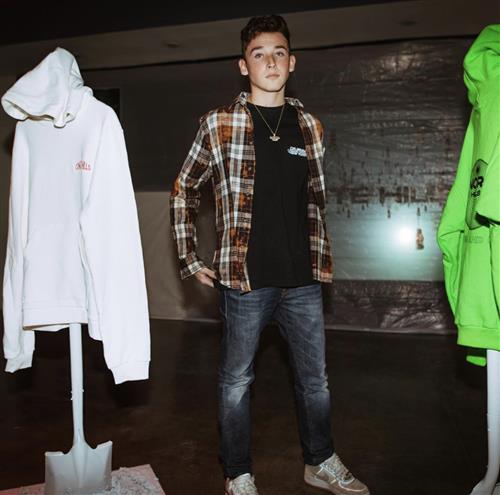 (CORONADO HIGH SCHOOL -- Oct. 19, 2020) — Kidpreneur Drew Frank, a Coronado senior, found a niche in the high-end shoe business at the tender age of 13 selling limited edition sneakers to the likes of superstar Khalid, hip hop trio Migos and rapper Lil Yachty. More recently, along with his brother and business partner Jamie, he launched Kickpin, a high-end streetwear brand, while successfully managing the demands of high school. The young businessman plans to attend college on the east coast and is president of Coronado's DECA club, serves on the senior executive team, student council and the National Honor Society. For this edition of the EPISD Student Spotlight, Community Engagement sat down with Frank to talk about the challenges of balancing high-school and a thriving business.
COMMUNITY ENGAGEMENT: How did you start Kickpin with your brother and what made you start so young?
DREW FRANK: At 13, I decided to take my sneaker passion to the next level. I had seen how quickly limited release sneakers sold out, making them nearly impossible to acquire outside of major cities. I wanted to figure out a way to bring access to rare sneakers to El Paso. Once we amassed enough inventory, we decided to open our brick and mortar store.

CE: Who works at Kickpin while you are at school?
DF: At the moment, we are only open by appointment and through our website. We go everyday after school and sometimes before to ship online orders and to meet with customers.
CE: Business and entrepreneurship runs in your family. How has your grandfather, Helen of Troy founder Gerald DF Rubin, influenced your entrepreneur spirit?
DF: By the age of 16, my grandfather was already running a successful electronic store with his own brother, and he really encouraged us to start our entrepreneurial journey as young as possible.
CE: Describe how you give back to the community through the Kickpin Foundation?
DF: The Kickpin Foundation has given away over 4,000 pairs of Nike sneakers to underprivileged children in El Paso, Mexico and Israel. We also have a partnership with Jordan Brand and every year they donate a certain amount of shoes to the foundation.
CE: As kidpreneurs, what drew you to high-end shoes? What do you sell?
DF: We really loved the exclusivity and high demand of sneakers that sell out quickly. We sell a variety of rare Nike, Jordan and Adidas shoes that sell out usually within seconds.
CE: How do you market your store and how do you get such great celebrity buzz?
DF: We market Kickpin through our social media handles on Instagram and Facebook. We often first meet the celebrities that come to Kickpin when they have a concert in El Paso. We have been able to form long-term relationships through Kickpin with artists like Lil Yachty, Khalid and the rap group Migos.
CE: How have sales fared during the COVID pandemic? Have you had to take a different approach to sales and marketing?
DF: Overall, our sales during the pandemic have increased significantly because of all the online orders that we have received. We have pivoted all of our marketing to our online shop because we have not been able to open the store in months.
CE: What advice do you have for other students who might consider starting a business?
DF: I would say never let your age be a factor, don't underestimate your talents, will to work and belief in yourself.
CE: Anything you'd like to add?
DF: I recently started another business called Concrete Hills, which is a high-end streetwear brand that I sell to boutiques across the country. The brand has been gaining a lot of attention and celebrities like Kyle Kuzma, a starter on the LA Lakers, and rapper Lil Yachty have been wearing it.
Interview by Reneé de Santos