Return to Headlines
EPISD Student Spotlight: Jad Yaoub, El Paso High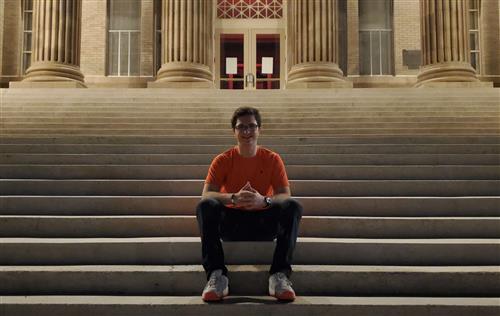 (EL PASO HIGH SCHOOL -- June 3, 2021) — El Paso High's Jad Yacoub may only be a junior but he's already college ready. He boasts an impressive GPA, an SAT score greater than 1500 and a resume with leadership roles both in and outside of school. Jad is setting the groundwork for a successful career that intertwines his passions of technology and medicine. Community Engagement sat down with him virtually for the next segment of the EPISD Student Spotlight. Here's his take on his junior year, staying motivated and advice on getting a near-perfect SAT score.
EPISD: How are you staying motivated and involved in school during the pandemic?
JAD YACOUB: Although the pandemic had remarkable effects on students' motivation around the district, I have personally enjoyed online school. Managing my day-to-day schedule with more flexibility than ever has better prepared me for college life and has allowed me to handle a rigorous course load. I have felt motivated to take advantage of online learning and continue my career of academic excellence at La High.
EPISD: How have you balanced academics and extracurricular throughout your high school career?
JY: Priority arrangement is one of the most fundamental lessons you learn in high school. For me, it was easy to maintain high grades during my freshman and sophomore years with the limited number of college courses available. This year, I found it a lot tougher to be involved outside of school while still managing to take eight college courses. My weekly planner was never empty, so I had to tackle assignments based on due dates squeezing enough time for school activities and volunteering events between deadlines.
EPISD: Tell us about your involvement in the Double T Health Professions Society at Texas Tech?
JY: The Double T Health Professions Honor Society at Texas Tech is an organization targeted at high schoolers in El Paso and surrounding areas looking to explore a possible career path in medicine. I joined the organization as a freshman and was recently re-elected to serve as president this upcoming year. It's an exciting experience where one gets to listen to the journeys of a plethora of diverse medical professionals all across the United States. If anyone is interested, here is our website: https://hsdoublet.wixsite.com/texastech.
EPISD: What made you create the El Paso High Tech Club? And what does the club do?
JY: I, along with two of my peers, Nicholas Schaffer and Allen Leinberger, cofounded the El Paso High Tech Club to fulfill our passion for robotics, video games, and networking. From robotics to e-sports, the club hosts various competitive teams looking to win some trophies next year.
EPISD: Tell us about the Tech Club's STEM Summer Camp for underprivileged students?
JY: The digital divide exemplifies the issues of technology access for those who cannot afford the high costs of STEM education. As a club, we wanted to host a summer camp for underprivileged middle school children who otherwise may not have an opportunity to succeed in STEM. The Summer Camp will have lots of fun, fascinating applied science projects to engage students' problem-solving skills.
EPISD: What are your honors and achievements in high school?
JY: I've strived to be a high academic achiever in high school, currently the class valedictorian. I am a state qualifier for Science Fair, National History Day, and I represent El Paso High School on the national level.
EPISD: What activities are you involved in outside of school and what are you doing to bring a sense of normalcy to school during the pandemic?
JY: Along with the extracurriculars mentioned above, I love to go out on the golf course. The beautiful Saturday sunrise gives me some much-needed space from school. Hanging out with friends on the weekend has helped me keep a sense of normalcy during an isolated week of online school.
EPISD: We understand you got an amazing score on the SAT. What did you score and what advice would you give students getting ready to take the SAT?
JY: Along with a perfect 800 on the SAT Math II subject test, I received a score of 1510 on the SAT, with a 790 in Mathematics and a 710 on the Reading & Writing section. My best advice for freshmen and sophomores looking to score high is to start studying early and take advantage of the district's vast resources. Your ability to do well on the test will be determined by how much effort and time you put into preparing. Anyone can get a 1500+ with the right amount of studying and practice.
EPISD: What do you plan to study and what got you interested in that field?
JY: I plan to attain a bachelor's degree in Biotechnology and go to medical school. My love for both medicine and technology has inspired me to take a focus on combining my talents to contribute to the field of medicine.
EPISD: What are your plans for the summer?
JY: This summer is going to be an exciting one, with lots of things to get done! I'll be getting ready for a wonderful senior year as I apply for scholarships and prepare my college applications.
EPISD: Anything you'd like to say about graduating from El Paso High?
JY: It'll be an exciting moment to finally graduate from the Lady on the Hill next year. 10 years ago, I watched my cousin graduate from the stands of La High, and ever since, I could only dream of grabbing my tassel and moving it from right to left, signifying the memories and sacrifices that I have made throughout high school.
Interview by Reneé de Santos